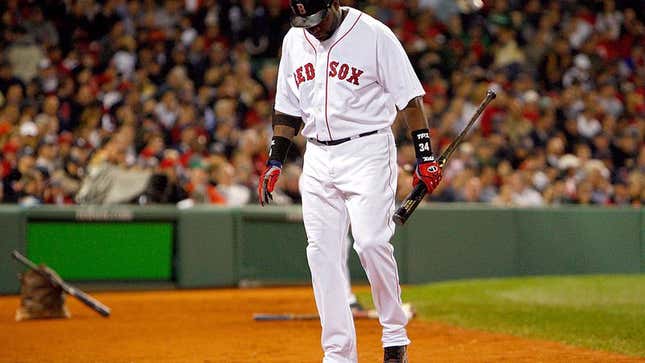 BOSTON—According to official MLB statistics available as of press time, struggling Red Sox designated hitter David Ortiz is hitting only .200 and has tallied a paltry four home runs and 11 RBIs thus far in 2010. Sources close to the team noted that, just FYI, Ortiz is being paid $13 million per year to do nothing but hit.
CDC Issues Dire Warning That Nick Cannon Is Feeling Horny
Moreover, as long as sources happen to be on the subject, Ortiz is carrying an on-base percentage of .274 and a slugging percentage of .412 for an OPS of .685, which ranks him at roughly 60th in the American League. Basically, witnesses said, this means Ortiz has earned $165,214 per hit this season, which is something to think about for sure.
Once again, sources stated, Ortiz only gets paid to hit. Just hit. Nothing else.
So those familiar with the Red Sox organization are completely clear, baseball insiders said, the Dodgers' Andre Ethier is leading the NL with a .385 batting average, has 37 RBIs, and is second in the majors with 11 home runs. It also bears mentioning, they continued, that he plays a position in the outfield, is a 2009 Silver Slugger Award winner, writes the food blog Dining With 'Dre, and does all of this for $7.25 million per year less than David Ortiz.
Sources also confirmed that Milwaukee's Ryan Braun is right behind Ethier, hitting .359 with 28 RBIs, for only $1.3 million, if you can see where sources are going with that.
Personnel close to the Red Sox front office noted yesterday that Ortiz is being paid one-twelfth of the team's total payroll, adding that they were just saying, is all. In addition, those who wonder if you can see a trend developing here at all reported that the Texas Rangers, currently in first place in their division, will spend just over $55 million on payroll this year, which is only a little more than four times what Ortiz costs Boston.
Flustered Red Sox officials, who are reportedly "very familiar" with these numbers, have on multiple occasions been overheard to say—usually with a fair amount of groaning, sighing, and wall-punching—that there are 12 teams without a single player earning $13 million this season, including Pittsburgh, San Diego, Arizona, Oakland, Florida, Cleveland, Washington, Cincinnati, Kansas City, Milwaukee, Tampa Bay, and Baltimore.
And one can't help but notice, sources confirmed, that Tampa Bay is currently in first place in the AL East.
Observers were forced to admit, however, that, okay, so far in May Ortiz has put up an OPS of .999 and has seven RBIs. But for a $24.5 million platoon DH? Are you freaking kidding them?
I mean, baseball insiders said, come on, people: The 2009 American League MVP, Twins catcher Joe Mauer, is earning half a million less than Ortiz, for Christ's sake.
In addition, and not that it really has anything to do with anything, but damn, they noted, the WNBA team salary cap is $775,000, so by himself Ortiz will earn nearly one and a half times what an entire professional sports league will be paid this year.
And not for nothing, reporters were told, they couldn't help noticing that David Ortiz earns $12,964,000 more than Uniontown, PA high school history teacher Mark Davis, who, according to students and principal evaluations, is successful and inspiring at his job every single day.
Highly placed baseball officials speaking on condition of anonymity have got to tell you that, if it were their money, they would have fucking cut the guy a year ago.