DAYTONA BEACH, FL—Daytona 500 organizers and NASCAR executives announced Tuesday that they would honor Dale Earnhardt on the fifth anniversary of his fatal Daytona crash with a new memorial "Wall of Fame," a six-foot tall, 40-yard wide monument to the seven-time champion that will be built across Turn 4 of the track and unveiled during the first lap of Sunday's season-opening Nextel Cup race.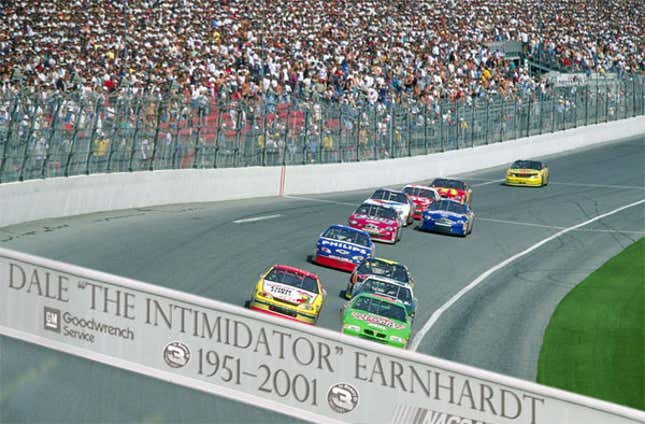 Study Finds LSD Highly Effective At Ruining Nephew's Baptism
"Five years ago, we lost Dale Earnhardt, a great racer, a great champion, and a great friend, when he hit the wall here at Daytona for the last time," said NASCAR president Mike Helton said at a press conference held to announce construction of the $1.3 million Armco and cement memorial barrier. "This Sunday, the entire field of the 2006 Daytona 500 will honor his memory when, on the very first lap of the Great American Race, they run full speed toward the wall that will forever bear his name."
According to track officials, plans to construct a memorial to Earnhardt at the track where the legendary driver lost his life had long been discussed, but no single design had been settled on until after the conclusion of last season.
"Dale Earnhardt wasn't an easy man to know," said Helton, who consulted with Earnhardt's friends and family members before making the decision to build the wall. "We spent a lot of time watching all Dale's hard-fought races, his famously gruff interviews, and his brash, swaggering public appearances. And it finally occurred to us that that the only thing that would've pleased 'The Intimidator' more than a solid, immovable, impenetrable monument to his memory would be the idea of all his former competitors bearing down on that wall at speeds approaching 200 miles per hour."
The 17-ton, four-foot thick wall was built by Daytona Speedway construction personnel, with the cost partially covered by a million dollars in fan donations and the balance paid by former Earnhardt sponsor General Motors-Goodwrench Service Inc. On Sunday, after the national anthem and the call to start engines, it will be maneuvered by crane into position, 15 feet in the air, at a point halfway between Turn 4 and the Daytona start-finish line. Following the pace lap, the crane will lower the wall into place, and on the first green-flag lap, the entire field will race toward the monument at full speed.
Special cleanup crews will use the crane to remove the memorial wall before Lap Two.
"You know, I think my Dad would have wanted it this way," said Dale Earnhardt Jr., son of the racing legend. "After all, he never wanted anything for himself that he didn't want for his family. And while I may be his son, in a strange way, my dad thought of everyone on the NASCAR circuit as his family. I know that somewhere, my Dad is cracking that creepy smile of his, thinking of us all going flat-out towards his memorial on Sunday."
Nextel Cup team members were nearly unanimous in their appreciation of the Wall of Fame, saying that it would give Dale Earnhardt the kind of immortality he deserved while simultaneously giving the fans the unique brand of emotional involvement that NASCAR was famous for. Only driver Tony Stewart, who has also recently criticized the race series on safety issues, hinted that he might not participate in the first-lap ceremony, for which he will in all probability be heavily fined.
The Dale Earnhardt Memorial Wall of Fame will be open to the public after the conclusion, in whatever form, of the Daytona 500 on Sunday evening, as soon as race officials have declared the track area safe again. Fans are encouraged to leave flowers, memorabilia, or personal items at the foot of the wall for Earnhardt or any other recently deceased racer, as long as items are in good taste.