WATERLOO, IA—Saying it was one of the few times the elected official had opted to show his face in the area all year, disheartened constituents of Iowa's 1st Congressional District confirmed that, during a charity event Wednesday, deadbeat U.S. Rep. Bruce Braley (D-IA) had finally decided to spend some actual quality time with them.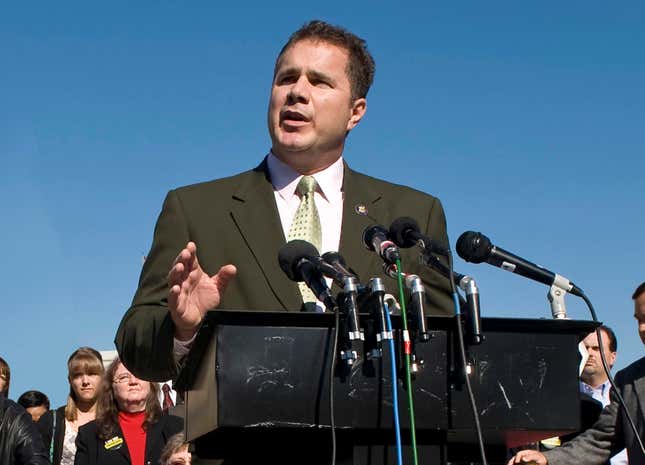 According to constituents, Braley has hardly been a part of their lives at all since he entered office in 2007, choosing instead to spend most of his time in Washington or "God knows where else," and only occasionally returning home for short, obligatory visits during holidays or around campaign season when he needs a favor.
"Time and time again [Braley has] told us he'd always be there to provide for us, but then whenever we need him most—surprise, surprise—he's not here," said constituent Ellen Deaver, adding that Braley "waltzed into town [Tuesday] like he'd never left" and offered no apology for his prolonged absence. "And when he does come around, he makes all these promises about how things are going to get better and how we mean everything to him, but then he splits again. Meanwhile, the roads and bridges he's been swearing he'll fix for months are still a mess, and he's way overdue on that stimulus money he told us he'd send."
"I want to believe he can change, I really do," Deaver added. "But part of me is starting to think he never will."
Saying the absentee lawmaker's consistent unreliability had left them feeling "emotionally drained," constituents told reporters Braley's appearance this week could never make up for the dozens of instances in which they attempted to contact him directly only to be told he was tied up in committee, or for his failure last August to show up to the 4-H fair at the National Cattle Congress even though he knew it was important to them.
Locals also claimed to be disappointed with Braley's habit of making promises he likely never intended to keep, such as his pledges to create more jobs in the Quad City area, improve public schools, and write home more often. In addition, many said they were "fed up" with Braley selfishly blowing money on things the district doesn't need and spending more time with lobbyists in Washington than he does "with his own damn constituency."
"Look, I'm not going to pretend it isn't nice having him around when he's here—it is," said Davenport-area mechanic Rick Ordower. "He's so charming and likable that it feels really nice simply being near him, but you see what he's doing, right? He's just trying to make us forget he's a total narcissist, and like idiots we fall for it. And it hurts, damn it. It hurts real bad."
"I just want to feel like we mean something to him," added Ordower, his eyes welling up with tears. "Like we're really his district."
Many 1st District voters attending the charity event told reporters that, while they had not forgiven him, Braley actually did, to his credit, seem "truly sincere" this time about his commitment to the region, going so far as to tell them his heart would "always be in northeastern Iowa," and saying, "You all have a very special place in my heart," before concluding his remarks.
At press time, a number of locals admitted they were taken aback when a "very warm" Braley looked them directly in the eye and shook their hand, a gesture one constituent claimed "might have seemed meaningless" had the lawmaker not also made a convincing and touching personal assurance to them that "help is on the way" for the district's unemployed and that he would work "tirelessly" for them.
Braley also reportedly said he would be back for Thanksgiving.
"I know he's let us down in the past, but I have to say that despite everything, I could honestly see it in his eyes this time that he really meant it," said smiling constituent Tom Dettman, waving at Braley as the congressman entered a car headed for the airport. "This was not the same old Bruce."
"He said he might get us funding for a zoo, too," Dettman added. "Can you believe it? Our own zoo!"