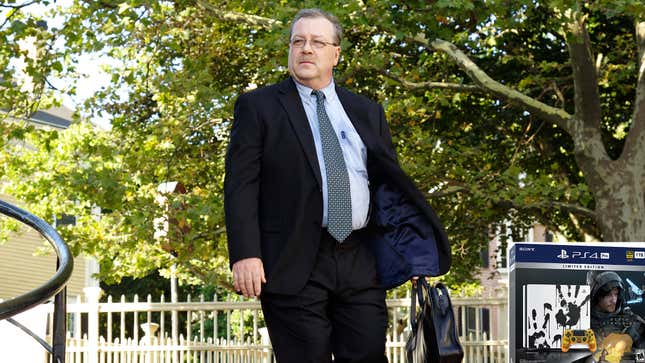 Attention gamers! Here's a deal that's just too good to pass up. This guy with a nice suit passing 35th and Claremont Ave. is probably carrying enough on him right now to buy the Death Stranding PS4 Pro bundle if you stick him up.
Move fast on this, though. This isn't a deal you want to miss.
This incredible bundle, which includes a copy of Hideo Kojima's new masterpiece as well as a custom 1TB PS4 Pro system and a Death Stranding-themed Dualshock 4 wireless controller, normally retails for $399.99. But for a limited time, you'll be able to have it for what this rich-looking dude probably carries on him in cash every day if you just swing around a tire iron and maybe make him fear for his life a little.
If you've been holding off on taking the plunge on this ambitious and experimental new adventure game, it's unlikely you'll get a better value than this. This guy's jacket appears to be real Armani and he seems pretty nervous. Frankly, you probably don't even need to get up close and personal to threaten him. You might be able to get away with just sticking your finger in your jacket pocket and claiming it's a gun!
As an added bonus, even if he's short on cash right now, it looks like he's wearing a fancy-enough watch that you could yell at him to peel it off his wrist and get most of the way towards a bundle by pawning that alone! That's one of the year's hottest releases and the most technically powerful PlayStation system ever, and all you have to do is corner him in an alleyway and tell him you don't care about his life until he starts whimpering.
This deal is almost too amazing to believe, but you'd better act now, because the guy in the nice suit has started to notice you staring at him and he could break into a run at any moment.