SAVANNAH, GA—In the wake of the Aug. 12, 2004 death of her parents Hugh and Patricia, Leah Sawyer's self-esteem has skyrocketed, sources close to the 27-year-old said Monday.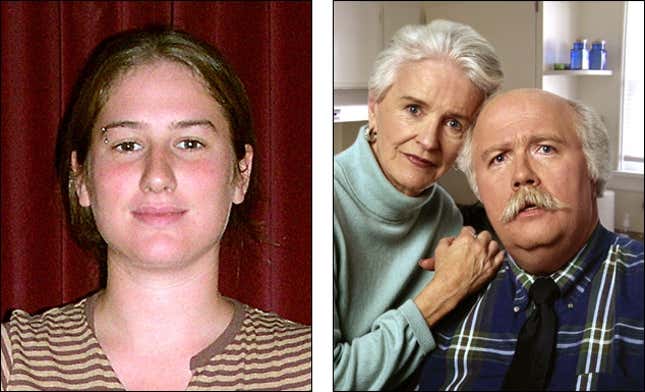 This Week's Most Viral News: September 29, 2023
"When her parents died, I thought for sure the terrible experience would send timid little Leah right over the edge," Sawyer's 31-year-old cousin Edie Holt said. "But somehow, she's handling the tragedy really well. If I didn't know that this dreadful thing had just happened to her, I would say that Leah was the happiest I've ever seen her."
Less than a year since a semi-truck broadsided Sawyer's parents' Saturn Ion on Interstate 516, Sawyer seems "healthy, fulfilled, and confident," Holt said.
"Leah seems to be adjusting just fine, even though her life is vastly different from the one she had been living at home with her parents in the suburbs," Holt said. "I got the impression that Aunt Patricia and Uncle Hugh could be quite critical and controlling sometimes. And I know she wasn't thrilled about the hotel-management job Uncle Hugh had found for her, either."
"Oh," Holt added quickly, "but I'm sure that Leah would give up her new job and her new condo downtown just to hear her parents speak to her one more time. I mean, of course."
Within two months of the tragic car accident, Sawyer quit her job, put the longtime family home on the market, and sold most of her parents' possessions.
"We were initially worried that Leah was being a bit rash," Holt said. "Everyone remembered how she'd been such a homebody. I mean, she barely ever left her room. We feared that she might be having some sort of nervous breakdown as a result of her grief."
"But Leah told me in the calmest of tones that, for her, the one real way that she could move on was by moving out, so to speak," Holt said. "And, after unloading all of her dad's beloved fishing poles and her mom's macramé supplies at an estate sale in a single weekend, that's just what she did."
Many friends and relatives said they noted Sawyer's fortitude at the funeral.
"We were all very impressed that Leah volunteered to deliver the eulogy, since she'd always been so shy at family gatherings," said Natalie Demirdjian, Sawyer's aunt. "But at the funeral, she was very composed and she spoke so positively about her parents' new life in heaven. She spoke movingly about how Hugh and Patricia had journeyed on to a place free of worries and hassles, where they would be 'forever young and without complaints.' Then she described death as a way for the bereaved to start anew, and how 'bright flowers would bloom on scorched and sour earth.' It was quite inspiring."
"It must have done her good to speak from her heart, because when she walked away from that podium, Leah looked a foot taller," Demirdjian said. "It was as though a giant burden had been lifted from her shoulders."
Although her inheritance could have allowed her to retreat from public life, Sawyer plunged headfirst into new pursuits.
"I was stunned when [Leah] told me she was taking motorcycle lessons," Sawyer's friend Betsy Pfaff said. "She said that, since she's proven that she can read the paper at the kitchen table without leaving dirty smudges all over the tablecloth, maybe she can also climb on a motorcycle without suffering permanent brain damage. I didn't really get what she meant, but she's been through a lot lately, so I didn't question her."
Pfaff added: "I also let it go when she said, 'You don't think wearing red makes me look like a whore, do you?'"
Pfaff said her surprise redoubled after she asked Sawyer to help her manage her small used-book store.
"I really needed an extra hand, but I didn't have a lot of money to pay Leah," Pfaff said. "I didn't want to take advantage of her while she was in such a fragile emotional state, but Leah said the low pay was fine because she really loved the store. She told me, 'Sure, Mom and Dad wouldn't have approved of me working for peanuts, but we can't live in the past, can we?'"
Pfaff said the new independence must be good for her friend, because she's noticed that Sawyer's complexion is clearer than it has been in years, her frame looks about 15 pounds lighter, and she has begun to attract the attention of men.
"Leah used to say she didn't date because she was holding out for the type of guy her father would approve of," Pfaff said. "She'd never found that guy in all the years I knew her, though. I guess her luck must've turned around."
Last week, Sawyer went on a date with bookstore patron Seth Westphal, 30, who said he was attracted to her "optimistic attitude and big, sunny smile."
"Over dinner, I told Leah, 'You seem to have a lot of energy,'" Westphal said. "Leah smiled, turned a little red and said, 'Yeah, well, my parents died in August.'"
Family physician Dr. Jack Meyerling, who has known the Sawyer family for nearly 30 years, said that, while it is not unusual for a bereaved person to resent his or her deceased loved ones for departing so suddenly, Sawyer appears to have "made peace" with her situation.
"Psychologists have isolated five stages of mourning: denial, anger, bargaining, depression, and acceptance," Meyerling said. "But, after spending a very brief time in the initial stage, Leah skipped the middle three and very swiftly zeroed in on the fifth."
Added Meyerling, "Actually, in Leah's case, I would propose adding a sixth stage: welcoming."