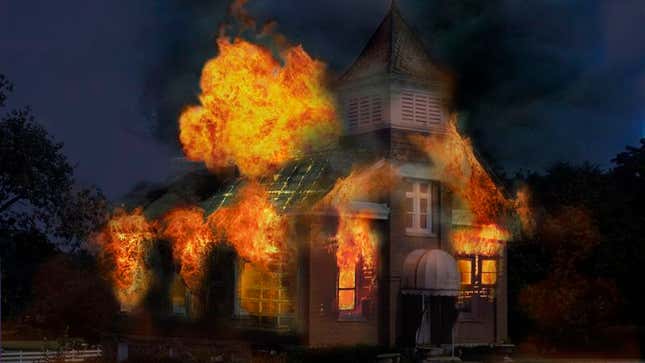 HEMPSTEAD, NY—A time-honored tradition ended in calamity tonight when, less than an hour after presidential candidates Mitt Romney and Barack Obama gathered together in the town of Hempstead, NY to debate their political views before villagers, a lantern tipped over and set fire to the ol' Town Hall.
This Week's Most Viral News: September 22, 2023
According to sources, the fire broke out when a mare kicked over an old kerosene lamp, quickly lighting wooden pews aflame and igniting haystacks in the town's historic gathering place, which for centuries has served as the center of social, spiritual, and political life for the people of Hempstead.
"Come quick, there's a fire down at the ol' Town Hall!" local schoolteacher Eunice Quinn shouted into the cobblestone streets as the blaze spread through the building's storage chambers, burning up the surplus of dry goods and preserved fruits that had been safely stored away for the harsh winter months. "It was Bluebell again, kicked over an old lamp right in the middle a' debatin'! We best send some of the older children down to the well and get a bucket brigade going. Hurry, before the flames get the fall harvest!"
Sources reported that by rallying together, villagers and a contingent of volunteer firemen were able to evacuate the building within 15 minutes, helping to save the lives of countless townsfolk, livestock, and political figures trapped within the smoke-filled rooms.
While congregants from the local Presbyterian Church helped keep hot cinders from setting fire to the schoolhouse down the street, a team of nursemaids worked to revive moderator Candy Crowley with smelling salts and a sip of brandy.
"I thank God that no souls perished today in this infernal blaze," said local pastor Cyrus T. Jebediah, speaking to a coughing Soledad O'Brien as authorities assessed the damage to the building. "Everyone in Hempstead helped quell the flames. The women in their fancy gingham gowns and bonnets, the rowdy Rachom boys—why, even crazy Jasper Pike, his bottle of corn whiskey still in one hand. Made me proud to be a Hempsteadian, I'll swear to that."
The fire was an unfortunate end to an otherwise spirited week of great commotion and excitement in Hempstead, with townsfolk dressing in their Sunday best and local merchants making sure their storefronts and pantries were spotless for the presidential candidates' arrival.
Town sources reported even old Widow Chessum had roused herself to attend the debate, despite her severe gout.
"Shame the debate had to be canceled," shopkeep Bartholomew Small told reporters, his starched white shirt sullied with ash. "Just some good, law-abiding folk comin' together to have an open discussion about the future of our country. Weren't nothing more than that."
At press time, the citizens of Hempstead had scheduled an emergency meeting behind Whitaker's Saloon to discuss a replacement venue for this year's upcoming harvest ball.