OSHKOSH, WI—The 16 members of the Abbotsford High School debate team enjoyed a night of revelry in the hot tub of an Oshkosh Super 8 motel Sunday, celebrating their second-place finish in the Wisconsin High School Forensic Association state competition.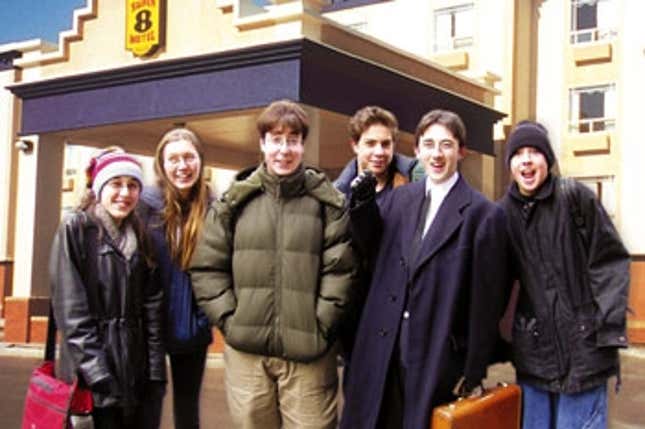 "This is it, guys," said team captain Ethan Howe, sinking back into the bubbling water and raising a can of Orange Slice high into the air. "This is what we've been working so hard for all year!"
On Jan. 11, the Abbotsford debate team qualified for the state competition, "killing" at the district level. The following day, Abbotsford Forensics Club advisor Sharon Knauf made lodging accommodations for the students in Oshkosh for the WHSFA Four-Speaker State Debate Tournament, held at 8 p.m. Sunday at University of Wisconsin-Oshkosh.
"For years, whenever we went to state, I always booked the Oshkosh Econolodge," said Knauf, 53, who has coached forensics for 18 years. "A few years ago, though, they opened up this Super 8 right off Hwy. 41, and I really like it better: There's no problem parking the bus, and it's quite a ways to downtown, so no one is tempted to try to sneak out."
Super 8 #2692 boasts an indoor heated pool and whirlpool, free HBO and ESPN, and a vending area with candy, chips, soda, and an ice machine. On weekends, the motel also offers a continental breakfast from 6 to 10 a.m.
"This place rocks," said Howe, a white towel draped around his neck as he swaggered to the button that restarts the whirlpool. "We are livin' it up."
Knauf reserved nine adjoining rooms on the east wing of the second floor, assigning two students to each room and giving herself a single. The rooms were situated near the vending area, a spot frequented by the high-spirited students throughout the night.
"We took up a collection in an ice bucket—I put in, like, seven dollars—and we brought a bunch of snacks back to Party Central [Room 233]," Howe said. "Jim [Gamble] even had a CD player, which he technically wasn't allowed to bring. Shhh."
The mischief, sources report, was not limited to boom-box smuggling. Student and allergy sufferer John Greipentrog, claiming to be in desperate need of Benadryl, obtained Knauf's permission to leave the motel to walk to the Amoco station down the road.
"I was lying," said Greipentrog, who actually made a "supply run" for food to add to the already copious amounts left over from the celebratory dinner at Olive Garden. "I had my Allegra with me. Of course, I was way nervous about lying to a teacher, but the rest of the team convinced me to live on the edge for once."
By 7 p.m., the motel's whirlpool had become the center of activity. Nearly all the students convened at the 10-person hot tub, enjoying the company of their fellow honor students in pampered luxury.
"I forgot my swimsuit, but I just wore shorts and a T-shirt—right in the pool!" junior Denise Neumann said. "We were singing our school song, but we changed the words to make fun of the a-holes on the football team."
The combination of the wet bodies, caffeine, and general spirit of revelry even resulted in some intra-squad flirting.
"Eric [Yetter] is so funny," sophomore Kim Ault said. "He was pretending to fall asleep, and he'd sink down into the water and act like he was dead. Then he got my hair all wet, even though I wasn't going to put it in the water."
Later that night, Yetter and Ault disobeyed the "no co-ed room activity" rule, professing merely to be "sharing passages from their Advanced English 11 journals."
"I don't know what went on, but Eric is, like, Kim's man now," said Wendy Druyan, Ault's roommate. "We kept knocking on the door and calling their phone until they took it off the hook. Then we went in Denise's room next door and banged on the wall."
The only student who did not participate in the tomfoolery was Jay Gawlikoski, who spent the night in his room.
"If we get in trouble, it could go on our permanent record and colleges would see that," said Gawlikoski, two-time recipient of Knauf's Most Valuable Debater award. "I'd be more than up for some charades or maybe a game of euchre, but I really have no interest in doing something stupid that'd hurt my chances of getting into Northwestern."
According to anonymous sources, Gawlikoski is a "puss" and "just mad because everyone teased him for bringing a huge suitcase for an overnight stay." The unnamed student also claimed that Gawlikoski actually phoned his mother to tell her the results of his competition and was in bed by 10 p.m.
Unlike Gawlikoski, the other students were more than ready to party late into the night. The last to turn in, sneaking back to their respective rooms at 4 a.m., were Randy Lund and Tim Farber, a pair of juniors who earlier in the day went head to head against the co-captains of the vaunted Eau Claire Memorial High School squad.
"Yes, we were ultimately vanquished, but our 11-4 record is nothing to sneeze at, and we made some very persuasive arguments on the WHSFA debate topic, Weapons Of Mass Destruction," Farber said. " What's more, with just two graduating seniors on the entire squad, the Abbotsford debate team will be a force to be reckoned with next year. We had more than enough reason to make merry this eve."