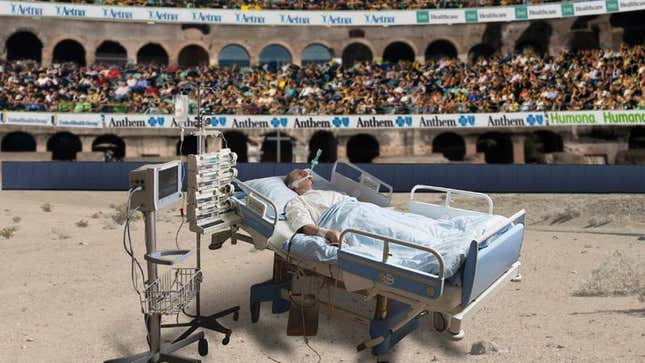 HARTFORD, CT—Creating an electric and intimidating atmosphere with their cheers and vocal cries for blood, throngs of health insurance executives reportedly crowded into a massive outdoor coliseum on Aetna's corporate campus Monday to watch one of their policyholders engage in a life-or-death fight against cancer.
Ron DeSantis Announces He Will Live As Slave For One Year To Prove It Not Bad
Sources confirmed that the stone arena was filled to capacity for the highly anticipated spectacle, with over 90,000 officials attending from providers as far away as WellPoint, Kaiser Permanente, and HCSC to see if the patient could survive an intense, brutal struggle with the advanced stage III illness.
"Today we bring you one of our most thrilling challengers to date: a 57-year-old caucasian male with preexisting high blood pressure and a family history of heart disease," said Blue Cross Blue Shield CEO Scott Serota from an extravagantly decorated box seat, his booming voice immediately silencing the raucous masses of middle-aged executives. "He holds a privately purchased Aetna PPO with a $400 monthly premium and $1,500 annual deductible, but faces the fight of his life against an aggressive form of multiple myeloma, one of the most ruthless killers known to man."
"Bring out Aetna member #ABP80424!" Serota continued as the withered patient was wheeled into the sand-filled arena on a small gurney to loud boos and whistles. "Let the battle commence!"
According to reports, the policyholder, who was equipped with limited resources of his own during the fight, immediately faced the punishing and grave challenge of successfully submitting claims for a preliminary consultation with an out-of-network oncologist. As a slew of taunts and jeers rained down from the hordes of health insurance professionals, sources said the increasingly weary combatant suffered a crushing blow upon receiving a $60,000 bill for one week of inpatient care that exceeded his plan's hospitalization coverage limit.
A tense hush reportedly fell over the arena moments later when a CT scan showed the cancer on the brink of remission, though the stadium soon erupted into emphatic cheers when the patient was not approved for further sessions of targeted chemotherapy that were deemed "medically unnecessary."
"He's putting up a pretty strong fight, but they really need to put an end to this soon—he's starting to cost way more than he puts into his annual policy," Humana executive vice president James E. Murray said as the patient, after making notable progress in obtaining a referral from his primary care physician, was instantly bombarded with an overwhelming barrage of indecipherable paperwork required to justify a follow-up appointment at his radiation therapy clinic. "But overall, though, it's been an incredible show. It was especially exciting watching him try to recover after they refused to cover his doctor's treatment program for being experimental and medically unproven. Frankly, I'm impressed that he even managed to come back from that."
"C'mon, kill him already!" added a screaming Murray, turning his attention back to the fight. "Finish that worthless scum!"
Experts confirmed that such cancer battles—along with kidney disease battles and lengthier diabetes battles—have been held in the coliseum since its completion in the early 1960s, and have remained a popular form of entertainment among American health insurance executives ever since. However, demands for more graphic carnage have reportedly grown in recent decades, with audiences clamoring to see patients become crippled by increasing premiums and left to die as insurers purposefully delay processing authorization forms for costly surgical procedures.
The most famous of the coliseum's challengers is said to be legendary Cigna plan member #ZH0115672, who bravely fought breast cancer for six years before finally succumbing to the disease in 2004. Sources said the 63-year-old policyholder almost incited riots in the stands after contesting a claim for post-operative mastectomy care through third-party arbitration, though the situation was fortunately defused when the arbiter sided with the health care insurers.
"Sometimes if the patient lasts long enough and things get a little too drawn-out, we'll unleash all the exclusions and caps we secretly hid throughout the contract for the most expensive medical services," said UnitedHealth chief financial officer David Wichmann, watching closely as the policyholder darted back and forth between specialists to repair damage from the substandard care of a recommended in-network doctor. "It's just a little fail-safe we have in our back pocket to make sure the crowds don't get restless. Besides, these patients know the risks when they step into the world of HMOs and high-deductible health plans."
"Oh, he's done for," Wichmann added as the helpless man fell to his knees and began begging for help paying his $800 monthly prescription of generic Zometa. "This is my favorite part—where we decide his fate."
At press time, deafening chants of "Deny! Deny! Deny!" drowned out the patient's desperate appeals against new coinsurance charges, after which the president of Aetna reportedly smirked and slowly dragged his index finger across his throat.