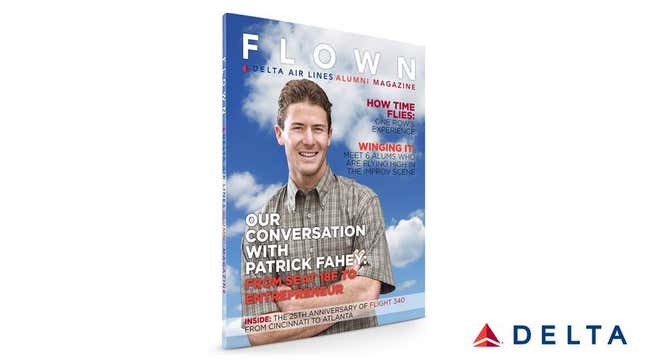 ATLANTA—In an effort to foster lifelong connections with past fliers and provide them with updates on the lives of their old cabinmates, Delta Air Lines announced Thursday the launch of Flown, an alumni magazine for its former passengers.
CDC Issues Dire Warning That Nick Cannon Is Feeling Horny
Published quarterly by the Delta Alumni Association, the magazine will reportedly include interviews with passenger newsmakers, a "Flight Notes" section in which personal updates can be shared with those who flew the same route, and features that celebrate the common experiences of the airline's 900 million alumni across the globe.
"This is a great way for our alums to find out what their fellow passengers have been up to since disembarking from their flight with Delta," editor-in-chief Sean Ericson said while showing off the inaugural issue, which he confirmed will be mailed this week to every person who has flown with the airline since its founding in 1928. "You can also keep up with our Delta family by checking out the passenger obituaries and birth announcements in our 'Departures And Arrivals' section."
"We're pleased to report that approximately 250,000 of our alumni got married this summer," he continued. "We encourage all of our former fliers to make sure we have their current mailing address on file so they can read all about it."
The September 2014 issue of Flown includes a 12-page retrospective story called "How Time Flies: One Row's Experience," which features interviews with passengers from row 22 of a 1996 Delta flight from Philadelphia to Boston. It discusses how their lives have changed since being seated together, what they remember most about their time aboard, and what advice they would give to future Delta travelers.
In "5 Delta Passenger-Athletes Dominating Sports," the magazine profiles former passengers who have gone on to successful athletic careers, including up-and-coming high school tennis star Bryan Kerns, three of the 20 members of the Alfred State College women's volleyball team, and two-time NBA champion and 26-time Delta flier LeBron James.
Additionally, the editors said each issue will include old pictures and stories of former passengers' favorite Delta memories in the regular columns "Flights Of Fancy" and "Touching Down," and will also feature articles on the kinds of work currently being carried out by the pilots and flight attendants at their alma mater.
"I was friendly with everyone in my boarding group, but my seatmate and I are still really close—we see each other all the time," alumnus John Harley writes in a story titled "Delta Flight #5803: Where Are They Now?" "Obviously, I met passengers from other parts of the cabin while waiting for the bathroom or picking up my luggage, but the people who were seated near me are the ones I spent the most time with. The guys in row 31, seats A through C, were actually in my wedding."
"It's weird to think that when I first met my good friend Mark he was just on standby," he continues. "Now he's a member of the Delta Sky Club—my, how times have changed. But we still all meet back at LaGuardia every five years to catch up."
Harley goes on to write that he and his friends always return to the same Auntie Anne's location between Gates B5 and B7 where they ate 20 years ago, noting that, "After all these years, that place is still going strong."
According to Delta officials, every issue of Flown will include a postage-paid mail-in form that alumni can use to make a tax-deductible donation to the airline.