SPARTANBURG, SC—For the first time in its 53-year history, Denny's has opened its voluminous customer-comment-card archive, giving the public an unprecedented look into its long history of service reviews and suggestions.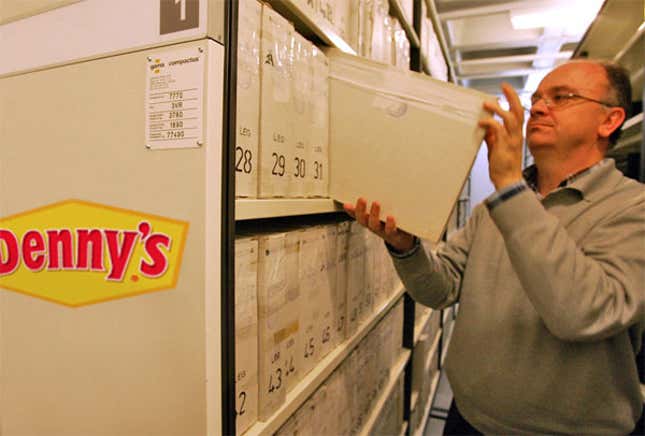 This Week's Most Viral News: September 22, 2023
While researchers are not permitted to remove comment cards from the Denny's clean room, they are permitted to view what many have characterized as the most valuable treasure trove of customer-satisfaction information currently in existence.
"We are thrilled to be given access to this repository of Denny's comment cards," University of Chicago history professor Kenneth Brayton said. "It is an exquisite collection, and a once-in-a-lifetime opportunity. None of these cards have ever been read by anyone but their authors."
Brayton added: "Prior to this, we could only speculate about the initial public reaction to Moons Over My Hammy."
The popular all-night eatery began archiving its comment cards shortly after their introduction in 1959. Initially, the comment card was seen as a forum for Denny's patrons to voice their feelings about their dining experience without bothering a manager.
At a press conference Monday, Denny's CEO Robert Butler presented the restaurant's very first comment card, believed to be from March 1959. The card, filled out by Jack Willeford of Lakewood, CA, was housed in an airtight, helium-filled display case specially designed by Denny's archivists. Although the faint graphite impressions have faded over time, recent advances in ultraviolet imaging technology allowed scientists to read the card.
On the card was written, "My bacon was crispy, and my waitress filled my coffee three times." Willeford rated his dining experience "good."
Historians have only just begun to unlock the secrets the cards hold, as there are over 270,000 to go through. According to Brayton, trends are already beginning to emerge.
"By examining these comment cards, we have unique insight into not just Denny's, but the tapestry of food-service heritage itself," Brayton said. "Here is a history writ large, with little yellow golf pencils."
The comment-card archive charts not only the quality of Denny's service over time, but also patrons' response to select menu items. Of particular interest to scholars is the nation's initial reaction to what would become Denny's most popular menu item, the Grand Slam Breakfast.
Said Brayton: "Many people at the time thought it was just too much breakfast."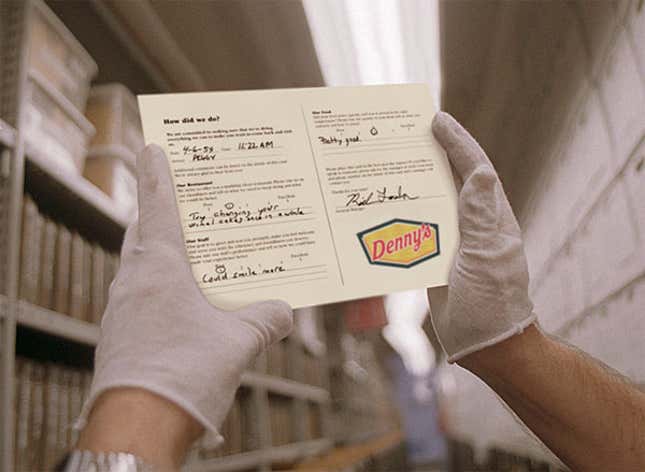 In addition to illuminating our past, the comment cards provide a novel view of such recent tragedies as the events of Sept. 11, when people came to Denny's for a sense of community and a reasonably priced meal.
"Every one of the 1,579 comment cards filled out between Sept. 12 and 17, 2001 is firmly in the 'excellent' category." Brayton said. "The nation was healing, and eating a lot of Two Eggs and More Breakfast platters. After that brief, nearly utopian period, the 'fair' assessments started to trickle in. Also, we began to see a rise in the positive ratings of onion rings, although it remains unclear whether this is related."
Just as the history of the U.S. is not without its troubled periods—such as the social unrest of the 1960s and the turbulence of the Watergate era—the Denny's comment-card archive has a side that can only be described as "poor." One card authored by a Biloxi, MS Denny's patron in 1964 reads, "Kiss my black ass."
One particularly dark time is evidenced by the archive's very first card—although by no means the last—to be signed "Heywood Jablomi."
"This card is dated Nov. 23, 1963," Brayton said. "The day after the Kennedy assassination. America—and Denny's, too—truly did lose their innocence that day."
Denny's chief archivist Duane McTagger said Denny's is "not proud of all of its reviews."
"Our team of cooks, hostesses, and servers are leaders in the mid-level chain-restaurant industry, but they are only human," McTagger said. "Syrup bottles occasionally do go unfilled, and sometimes, a waiter brings out coleslaw after being specifically asked to hold it. But Denny's—like our nation—has made it through dark times and prevailed."