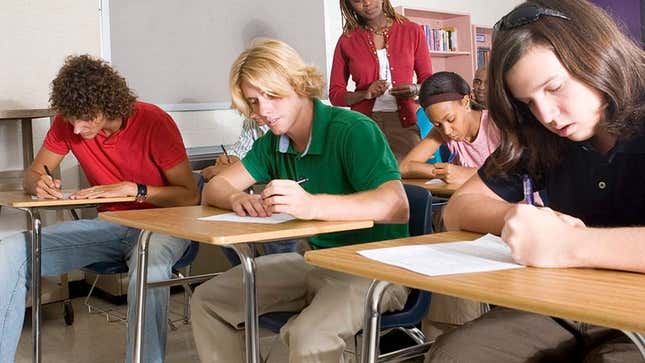 WASHINGTON—The U.S. Department of Education released a comprehensive, nationwide evaluation of American schools Monday indicating that attempts to teach absolutely anything to these little shits is just a huge waste of everybody's time.
This Week's Most Viral News: September 29, 2023
"We remain committed to providing every student in the country with access to a high-quality education," said Education Secretary Arne Duncan, adding that good schools are a key component to the success of American democracy. "But to be honest, none of that matters. We're not talking about promising young scholars here—we're talking about a bunch of fucking animals."
"We've basically flushed $11,000 down the toilet for every single one of these little bastards," Duncan continued. "Not to mention 18 years of my life."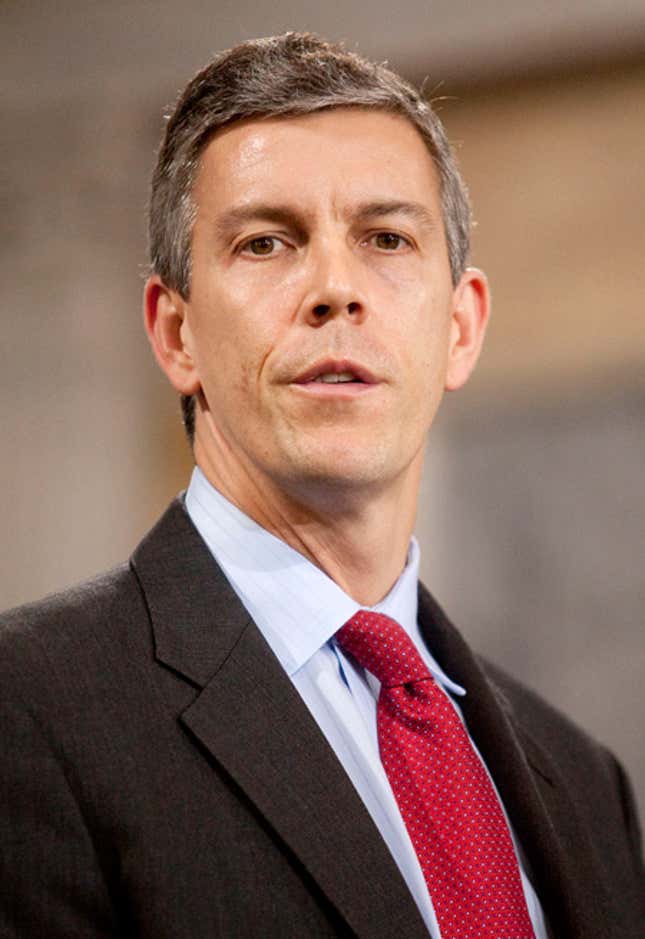 The study, which analyzed the effectiveness of both public and private schools, found that efforts to enlighten these terrors on the subjects of math, history, grammar, and science are as productive as slamming your head into a goddamn brick wall. The research also confirmed that the unbearable shits, who take everything for granted, consistently piss away each learning opportunity they're given.
"When I first started teaching, I would see the smiling faces in my classroom and get excited about nurturing their young minds," said Melanie Whitman, 35, a first-grade teacher quoted in the report. "Now I can't look up from my desk without wanting to puke at the sight of all those little psychopaths."
Secretary Duncan said the study is the first to provide detailed evidence in support of the theory that third-grader Scott Kriesel is a complete fuck-up and perhaps even the living incarnation of Satan.
According to the report, billions of dollars in federal resources have been spent to modernize classrooms and improve teacher training, even though the little brats spend their entire days carving profanities into desks, shouting at whoever's in charge, and refusing to sit down, shut up, and actually learn something for once.
In addition, research suggests that school boards across the nation have grown tired of fighting to obtain funding for brand-new textbooks only to have the miserable fucks just deface them all with ejaculating penis drawings on the first day of class.
When asked if charter schools might help solve some of the problems faced by public education, Deputy Education Secretary Anthony W. Miller told reporters the data indicated any difference they made would amount to jack shit.
"Some charter schools perform better than their public counterparts, some don't," Miller said. "You can't change the fact that any school, no matter how it's funded, is ultimately just another type of building to contain these goddamn monsters for seven hours a day."
Miller added that more involvement from home was not the answer, either, as the little shits tend to have shithead parents who just make everything worse. The only findings from the study that provide a glimmer of hope, he said, are student absenteeism and dropout rates, which continue to increase.
"Christ, I dedicated my career to my students, actually thinking I could make a difference in their lives," middle-school teacher Joan Kubickers said Monday. "If I'd gone into public relations, I'd be making six figures by now. And at a PR firm, I bet I wouldn't have to worry about my tires getting slashed in the parking lot."
"Well, I have to go," she added. "The fucking hyenas in my third-period class await."
The Department of Education study comes on the heels of a survey last month that found 90 percent of all elementary school students resent being taught by pathetic losers who couldn't get a decent job in the real world.