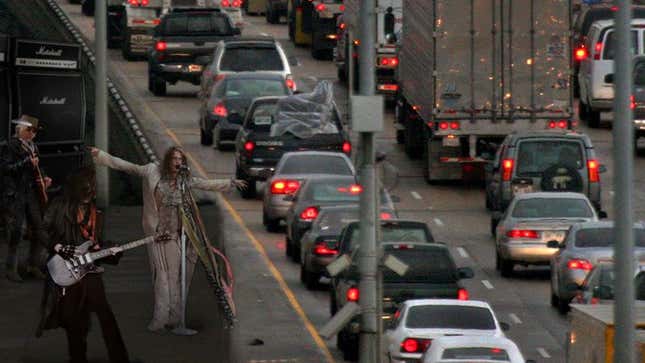 WASHINGTON—The U.S. Department of Transportation announced plans Wednesday to stage Traffic Jam 2013, a brand-new highway concert series that will feature popular musical acts performing for passing motorists on America's shoulder lanes, median dividers, and overpasses.
Saying the year-round outdoor events were designed to attract music lovers of all ages to the country's interstate highway system, department heads confirmed that more than 90 artists have already signed on, with top-drawer headliners such as Jay-Z, the Red Hot Chili Peppers, Avicii, and Bon Iver set to play across the nation on more than 200 major U.S. roadways.
"Our goal was to put together exciting lineups that would encourage Americans to drive up the on-ramp of their nearest interstate, roll down the windows, and enjoy some live music as they travel," Transportation Secretary Ray LaHood said. "Whether you want to hear Snoop Dogg and Dr. Dre rock the mic on a Long Beach frontage road or a rousing program from the Boston Symphony Orchestra across six lanes of I-90, we have something for everyone."
"And tickets to get onto the highways start at just $55," LaHood continued. "The driver of each vehicle must be 16 in most states, but otherwise these are all-ages events."
Sponsored by Bud Light Lime and Vitamin Water, the festival will also reportedly include dance performances atop freeway guardrails, nightly movies projected onto vacant billboards, and a wide variety of local food carts and beer concession stands scattered through passing lanes.
LaHood added that for concertgoers looking for a quieter, more intimate highway music experience, there would also be several smaller acoustic sets on select exit ramps and turnarounds. In addition, he said, weekends will feature comedians such as Patton Oswalt and Aziz Ansari performing stand-up sets from inside tollbooths as they make change for motorists exiting the nation's turnpikes.
Department officials confirmed that since presale tickets became available at midnight, more than 150,000 wristbands have been sold for Traffic Jam 2013, with most customers opting for the $200 Freeway Fun Pass, which enables its holders to traverse up to three intersecting highways to see multiple bands in a single day.
"I already bought my tickets to see Weezer, Phish, and Florence and the Machine play on the New Jersey Turnpike in March," said New York City resident Robert Davila, adding that he was "extremely pumped" to finally hear the acoustics in the Lincoln Tunnel. "I thought about seeing Method Man in February, but honestly, I have my doubts about whether hip-hop sounds as good performed live on I-84's HOV lane as it does on CD."
"Besides, all of my friends say you haven't truly experienced Phish until you've driven by the band at 75 mph and heard them belting out 'Farmhouse' from a stage on a cloverleaf interchange 100 feet above you," Davila added. "It's going to be amazing!"
Fan enthusiasm for the Transportation Department's concert series was echoed by many of the entertainers slated to appear, all of whom told reporters they were looking forward to seeing their fans speed past their shows next year.
"This is my first highway gig, so I'm really thrilled to be getting out there on I-10 and playing the hits," said musician Jack White, who will perform on the nation's southernmost transcontinental freeway in January. "When I was a kid, I saw the Rolling Stones play on top of Old Faithful as part of the Interior Department's 1989 National Parks concert, so I couldn't pass up an opportunity like this."
"That concert changed my life," White added.
Safety advocates, however, have raised concerns about the risks of highway concerts, citing an incident last month in which three out of the four members of Coldplay were killed when an 18-wheeler veered out of control while the band was sounding checking on the Long Island Expressway.