WASHINGTON—In the midst of a fiercely competitive presidential race with no clear Republican front-runner in sight, an increasingly depressed Mitt Romney shocked political insiders Monday when he released a new national attack ad targeting himself.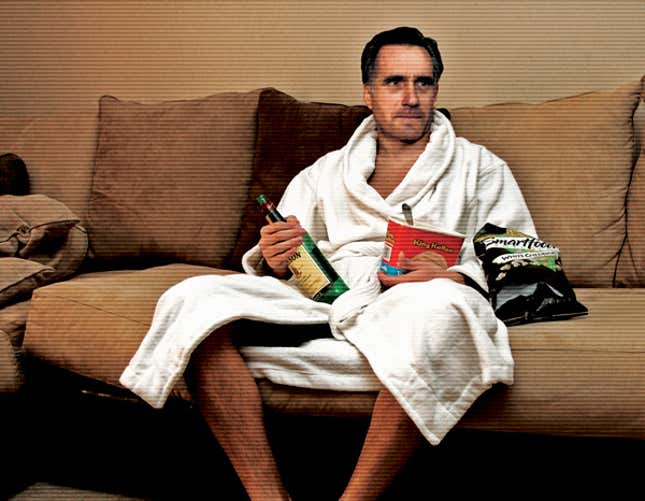 This Week's Most Viral News: September 29, 2023
The ad, which is scheduled to air across the country this week, features an unshaven and visibly crestfallen Romney taking himself to task on a number of key campaign issues, including health-care reform, illegal immigration, and "what's the use of even trying anymore?"
"Mitt Romney says he's a candidate for change. He says he's a candidate Americans can finally trust," begins the self- destructive television spot, narrated by Romney himself. "But in 2004, this so-called Washington outsider approved nearly four separate tax hikes. And do you know why he did that? Because he's a big fat disappointment, that's why."
"Ugh," the television spot continues. "I'm going back to bed."
Running 60 seconds, including 15 full seconds of long, world-weary sighs, Romney's latest ad is reportedly his most ruthless. Blasting himself for a wide range of political shortcomings, from cutting back on education spending to being unable to remember the last time he took a shower, the Republican candidate is said to hold nothing back.
"Strength, commitment, hope for a brighter future—you're looking at the wrong goddamn guy," asserts the television spot, as a still, unflattering image of Romney is struck with a large red "PATHETIC" stamp-graphic. "Do you know what I did yesterday? No, not campaign. I ate a gallon of ice cream. That's right, the whole damn thing."
"Is this who you want running your country for the next four years?" asks the damaging spot. "Someone who can't even run a simple microwave without crying?"
In addition to verbal jabs, Romney's ad uses several visual aids to call his character into question. Moments before the ad's conclusion, an onscreen chart helps viewers tally the number of times the Republican candidate has lain awake at night reliving past humiliations, while a 3-D computer model illustrates just how low Romney has reportedly sunk as a "relentless failure" in the past month.
Video footage from a recent Republican debate is also shown, though much of its audio is drowned out by Romney, who criticizes himself throughout, saying, "Nice answer, jerk," and "God, you really don't know what the hell you're doing up there, do you?"
The ad goes on to list many of Romney's alleged failures as governor of Massachusetts in bold white text scrolling over a black background, set to the sound of soft whimpering.
"I'm Mitt Romney," the television spot concludes. "And sadly, I approve this message."
Though early reaction to the attack ad has been negative, with many calling it unfair and even senseless, Romney has thus far stood his ground, claiming that the American people deserve to hear the truth.
"The men and women of this great nation have a right to know what's really going on out there," Romney announced as he stood behind a series of campaign posters bearing his new campaign slogan, "Anyone Else," late Monday afternoon. "If that means telling them that sometimes I lack the strength to change my clothes for three, even four straight days, then so be it."
According to MSNBC chief political analyst Barbara Schleisser, Romney's self-directed smear campaign is likely to hurt the Republican candidate's chances.
"In today's well-informed society, attack ads rarely work and often do more damage to the person running them than his or her target," Schleisser said. "Then again, you can only hear someone call himself a worthless sack of shit so many times before you start believing it."
Despite the controversy the ad has created, many staunch Romney supporters said they were not swayed by Romney's televised condemnation.
"I don't care what Romney says, I still believe Romney is the best man for the job," said Phillip Walker, a Florida retiree. "If anything, Romney's despicable last-minute tactic has only further convinced me to vote for Romney."