WEST LAFAYETTE, IN—Despondent over a recent breakup with his longtime girlfriend, Purdue University graduate student Tim Mahaffey, 27, has been hitting the Nintendo GameCube "pretty hard," roommates reported Monday.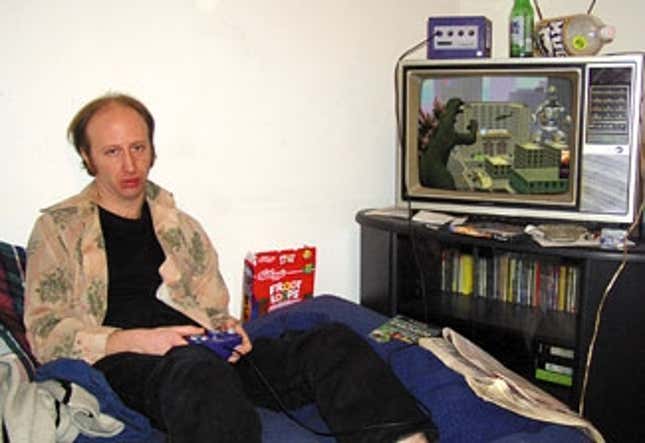 "Tim's been trying to drown his sorrows in the Cube," roommate Darrell Lock said. "He's always been into Nintendo, but it was under control. These days, though, you barely ever see him without a controller in his hand."
Mahaffey's downward spiral began on Dec. 14, when Brittany Pfafflin, his girlfriend of two years, ended their relationship. In the days following the split, Mahaffey's friends noticed him exhibiting a decreased interest in social activities and a corresponding rise in time spent with his GameCube.
"All he wants to do is bury himself in Super Smash Bros. and Tony Hawk's Pro Skater 4," Lock said. "He used to think of himself as a 'social' videogame player, confident that he could hit quit any time he wanted. But lately, he'll play one game after another, all night long without stopping. Doesn't he know how many other people it hurts? I have to teach a 9 a.m. discussion section."
Even more distressing, roommate Colin Thaler said, is Mahaffey's habit of lying to cover up his GameCube addiction.
"Whenever Darrell and I leave the apartment in the morning, Tim hangs back and makes up some excuse to stay in, like he has to find his keys or write a paper," Thaler said. "But we know better. As soon as we're gone, he digs up one of the controllers he has hidden all over the apartment and lights up the TV."
During a recent conversation, Mahaffey gave Thaler the impression that he might finally be ready to start dating again.
"I took it as an encouraging sign when Tim said there was a girl who seemed interested in him," Thaler said. "Eventually, I realized that he was talking about a character in the virtual town he created in Animal Crossing. He said her name was 'Jeanne.' I know he needs us to be there for him, but I almost started whaling on him."
Nintendo spokesman Michael Dean offered support to Mahaffey and others sharing his problem.
"Our prayers go out to the friends and family of Mr. Mahaffey, and to Mr. Mahaffey himself," Dean said. "When used responsibly, the Nintendo GameCube is a refreshing and enjoyable way to unwind from the pressures of the day. It is not intended for abuse, as has been reported among a small percentage of our happy GameCube family. We hope Mr. Mahaffey can get the help he needs so he can once again lead a productive life that includes responsible playing of such forthcoming games as Dungeons & Dragons Heroes, Legend Of Zelda: The Wind Waker, and Evolution Snowboarding."