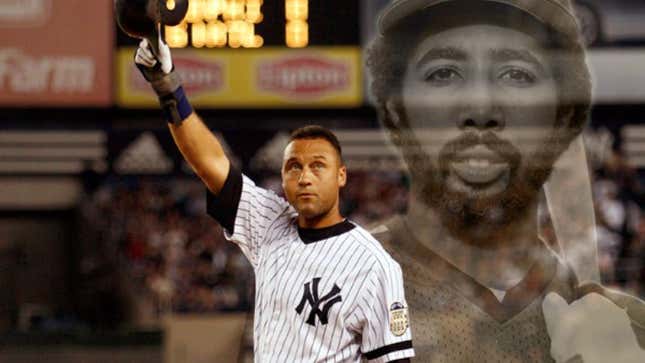 NEW YORK—Following Derek Jeter's 2,722nd career hit Friday, Yankee fans and teammates took a moment to honor the all-star shortstop for having 144 fewer hits than former journeyman designated hitter Harold Baines.
This Week's Most Viral News: September 29, 2023
Jeter, who reached the historic milestone in the third inning of his team's game again Baltimore, joined a pantheon of Yankee greats that includes Mickey Mantle, Joe DiMaggio, and Lou Gehrig—all of whom share the distinction of having fewer career hits than Baines, a one-time winner of the Silver Slugger Award.
"This is a very special moment for me and for the entire Yankee organization," said Jeter, who received a six-minute standing ovation, multiple video tributes, and hours upon hours of media coverage for being 144 hits behind Harold Baines. "As a young boy playing baseball, I never dreamed I would someday be mentioned in the same breath as [Harold Baines], let alone reach the level of having [12 dozen fewer hits than him]."
"They called him the Iron Horse for a reason," said Jeter, apparently referring to the retired designated hitter and sometime outfielder, whose 1981 Fleer rookie card is worth $9.99 in perfect mint condition. "He was a hero. Not just to baseball fans, but to the entire country."
Jeter's 2,722nd career hit not only puts him in the company of Yankee legends, but also ranks him with an elite group of 675,000 additional baseball players past and present with fewer hits than Baines, who played for the Chicago White Sox, Texas Rangers, Oakland Athletics, Baltimore Orioles, Chicago White Sox again, Baltimore Orioles again, Cleveland Indians, Baltimore Orioles for a third time, and Chicago White Sox yet again, and is not a member of the Hall of Fame.
Though Jeter prides himself on his team-first attitude, the Yankee shortstop was visibly excited to step into the shadow of Harold Baines.
After hitting safely to right field, Jeter smiled, clapped his hands, and raised his helmet to the throngs of cheering fans, many of whom sat through an 87-minute rain delay to witness their hero fall well short of Harold Baines' 2,866 career-hit mark.
Baines led the American League in slugging percentage in 1984.
"I'm glad I can tell my kids that I was at the game when Derek Jeter [didn't come close to getting as many hits as 22-season veteran Harold Baines, who won his only World Series as a bench coach]," Yankee fan Nick Sullivan said. "[Harold Baines]."
Fellow Yankee players were equally excited for their teammate, rushing the field to congratulate Jeter on successfully becoming a professional baseball player who has fewer base hits than Harold Baines, and only slightly more than Omar Vizquel and Bill Buckner.
Even the team's principal owner, George Steinbrenner, who has largely avoided the public eye since the new Yankee Stadium opened, released a statement extolling his shortstop for taking his rightful place 13 spots below Harold Baines on the all-time career-hit list.
"For those who say today's game can't produce legendary players, I have two words: Derek Jeter," the statement read. "Game in and game out, he simply produces [a lot less than retired nonentity Harold Baines]. And that's why we are honoring this significant accomplishment tonight."
Born in 1959 in Easton, MD, Harold Baines attended St. Michaels High School, where he batted .532 as a senior and was named an all-American. He was drafted by the Chicago White Sox in 1977 and would go on to a professional career in which he had more hits than Derek Jeter.
Baines was not on hand to witness Jeter's achievement, and is presumably still alive somewhere.