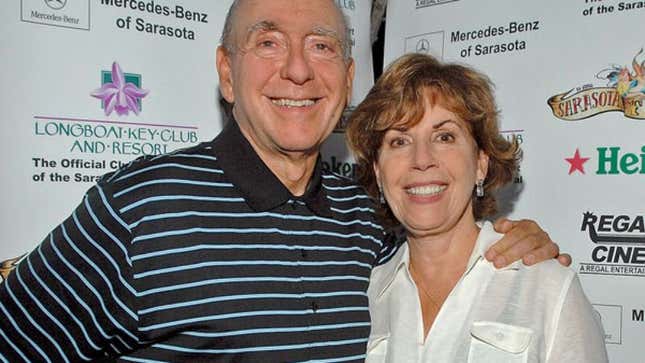 BRISTOL, CT—Emerging from her husband's dressing room slightly out of breath and sporting nothing more than a silk robe and tousled hair, Lorraine Vitale, wife of iconic ESPN college basketball analyst Dick Vitale, told reporters Sunday that her spouse is at his sexual peak during March Madness.
This Week's Most Viral News: September 29, 2023
"He's an animal," said Mrs. Vitale, adding that prior to her husband's appearance on ESPN's Selection Sunday special, the couple engaged in sexual intercourse three times in different locations, including once in a Bank of America ATM kiosk. "We fool around at other times during the year, of course, but once the conference tournaments start and the brackets are finalized, well, that's when the role-playing starts, the dirty talk gets louder, and 'the prime-time player' comes out of its velvet-lined case and gets fresh batteries."
"He's especially aggressive this year because Duke has a legitimate chance at making the Final Four," she added.
Lorraine, who has been married to Vitale for more than 35 years, said her husband uses certain erotic techniques only during March Madness, including the dipsy-doo dunkaroo; the super scintillating sensational slam-jam bam bam; the backdoor, baby; and the trifecta, which Lorraine would not describe in detail, but said involves the use of Mr. Vitale's index, thumb, and forefinger.
According to Mrs. Vitale, their lovemaking becomes longer and more intense as the NCAA tournament progresses—sometimes lasting well into the morning hours if her spouse has had a particularly heated exchange with fellow college basketball analyst Jay Bilas. She said that once the Sweet 16 is set, Mr. Vitale enjoys achieving orgasm by playing erotic games such as the "Cameron Crazy" and the "Diaper Dandy."
"That's what the baby bottle and diaper are for," she said.
But what her husband enjoys playing most, Mrs. Vitale noted, is "Duke vs. UNC," a game in which he dresses up as a Blue Devil, she wears a University of North Carolina cheerleader outfit, and, at the sound of an air horn, the two "go at it hard like two in-state rivals."
Mrs. Vitale would not confirm rumors that ESPN analyst Digger Phelps sometimes participates while dressed as Wake Forest's "Demon Deacon" mascot.
"When the Final Four comes around, Dick is so sexually charged that he's pretty much into everything," said the mother of two, who admitted that it was disturbing at first to watch her husband stand stark naked in their kitchen, a ball gag muffling his screams of "It's awesome, baby," but that the practice had grown on her. "And I'll admit that it's a little weird when he shouts out 'Krzyzewski' at the moment of climax, but believe me, it's worth it. I have so many orgasms that it doesn't matter."
"Quite frankly the month of March has given our marriage the kind of excitement other couples only dream of," she continued. "Every woman deserves to experience, just once, the type of arousal I feel when my husband and I join together in the slap-a-lapp-anapper."
The Vitales' odd and oftentimes graphic lascivious behavior began in March 1983, when the two spontaneously made love on Testudo, an oversized bronze statue of a diamondback terrapin turtle that sits outside the University of Maryland library. It was at that point that Lorraine Vitale said she knew something carnal had taken over her husband.
"It was after a pretty close game with a tournament spot on the line. We were walking through campus, and Dick whispered to me, 'The students rub [the turtle] for luck, so let's get really lucky tonight,'" she said. "I'll never forget it. The torn-off underwear, the cool bronze against my knees, and Dick's hot body on my back thrusting, thrusting, thrusting…. Excuse me, I need a drink of water."
"Hey, Lorraine, come on," Dick Vitale could be heard saying from inside his dressing room. "I want to try this cream that Bob [Knight] and Karen [Knight] use."
Before reentering the dressing room, Mrs. Vitale confirmed what everyone had already assumed to be true: that immediately after the NCAA championship game Dick Vitale ejaculates one last time, rolls over, and sleeps through the entire month of April.