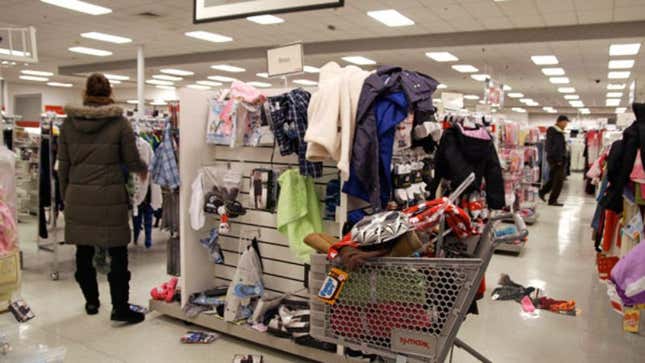 CHICAGO—While a majority of the nation's top retailers have reported a decided slump in 2008, economists studying the declining consumer markets are still unable to determine if discount clothing store T.J. Maxx has been affected by widespread recession.
Edgelords Explain Why They Love Elon Musk
Financial analysts, observing more than 100 locations nationwide, cited large quantities of off-brand and wildly scattered merchandise as evidence that T.J. Maxx has either been devastated by the economic downturn, or is carrying on as usual in spite of it.
"The state of this store does not in any way correspond to our standard criteria for judging long-term viability," said economist Graham Stinson, referring to Chicago's Fullerton Avenue branch, where more than half of the fluorescent lights are burnt out. "For instance, the canvas bins heaped with broken stemware in aisle six may be a sign that T.J. Maxx is on the verge of complete bankruptcy. Either that, or it's doing perfectly fine. It's impossible to say which."
Further evidence of T.J. Maxx's imminent foreclosure or, possibly, its wholly unaffected condition, included reports of shoppers rummaging through barrels of lamps up to their shoulders, multiple sightings of bras stuffed into children's shoes, the impromptu sale of in-store display cases for cash, and an excess of golf-based giftware.
Although economists were able to make firsthand observations of customers rifling through overturned clothing racks, their requests to analyze the company's financial records were met with confusion. Stinson and his team were eventually provided with a water-stained folder of handwritten receipts, but failed to make use of most of the data due to its ripped, soiled, and often indecipherable state.
Compiled interviews with customers also provided little insight. Many reported seeing "Cash Only, No Refunds" signs posted in every store and recalled having to climb over sacks of winter coats to reach clearance bins of mix-and-match earrings, leading economists to believe that the discount chain may be suffering after all.
"They must be doing really badly if they're selling this crap really cheap," said Lake Forest, IL resident Brian Crowe, carrying an armful of L.A. Gear sneakers to his car. "You've got to take advantage before this place shuts its doors for good."
Others, however, see T.J. Maxx poised to have a very lucrative year in 2009.
"That place must be doing pretty well," frequent customer Mark Rankin said. "I just saw some guy walking around with an armful of L.A. Gear sneakers."
With only one checkout lane remaining in most stores, some financial experts speculate that the retailer can no longer afford to employ workers. A two-week study of a Cleveland-area location did, however, turn up some minor evidence of a workforce, including the sighting of three folded shirts and a number of individuals smoking and playing Uno in the break room.
"Our analysis of T.J. Maxx's workforce was inconclusive, as we were never totally sure anyone was actually employed there," economist Libby Archer said. "Although, I suppose the lack of a distinct uniform could be a sign that they're doing well enough to move to a more upscale, boutique-type image for the store. That woman I saw drop a load of 20 sweaters onto a table of hats might have been the lead salesgirl."
"She did tell me to get the fuck out of her way," Archer added.
Economists were, however, able to locate a single store manager after months of searching. James Boucher, who runs the domestic department of the Smyrna, GA location, was found weeping in the middle of a sock aisle and was unable to comment on the store's current financial status—a sign that may suggest the overall mood at T.J. Maxx is more dire than previously thought.
"Oh, Jim is crying all the time," said possible coworker Anita Rouse. "He's been breaking down in tears once a day since he started here nine years ago."