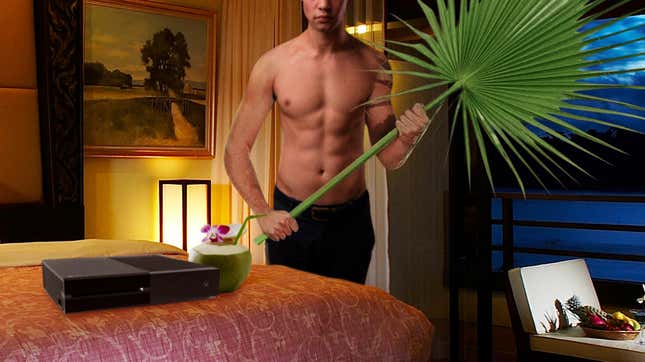 If you're an Xbox fanboy who was salivating over what the next gen could offer, you might want to sit down because we have disappointing news coming from the X019 press event: Microsoft just confirmed that Project Scarlett is actually just an expansive brothel they're constructing in Thailand where Xboxes can go to be pleasured.
This Week's Most Viral News: September 29, 2023
While being able to send your past Xbox models to the Bangkok suburb of Nonthaburi for an erotic weekend to have their ports fingered and optical drive whipped definitely sounds like a nice perk, we can't help but feel this is going to be a huge blow for anyone looking to the next-gen for the latest and greatest in graphics and gameplay.
"What we're offering with Project Scarlett is an all-inclusive package of sexual fulfillment and exotic excitement for any of our consoles at the hands of some absolutely beautiful Thai escorts," said Microsoft executive vice president Phil Spencer, explaining that all fans need to do is ship their Xbox, Xbox 360, or Xbox One to Project Scarlett in southern Thailand to guarantee them several nights of unforgettable pleasures amidst the sultry South Asian scents of freshly cracked coconuts and Ratchaphruek blossoms. "Men, women—whatever your Xbox needs, we can deliver on that at Project Scarlett. We have a highly trained team that knows how to deliver on even the kinkiest erotic fantasies."
"All your console has to do is kick back with a lychee cocktail while a consort with a palm frond guides them into an unforgettable experience," he added.
Spencer went on to present in-depth blueprints for the 3,000-square-foot bordello, describing an array of custom-made lotions, oils, and chains that will be employed to service the consoles when the complex opens during the 2020 holiday season. Thankfully, Microsoft has guaranteed that there will be regular testing in place to ensure no Xbox is returned to its users with a virus, but this does little to dispel industry concerns about whether Project Scarlett might violate local or international law.
Obviously, Microsoft is betting big on the sexual tourism industry being the next big step for the Xbox brand. Still, we can't help but worry that abstaining from the upcoming generation with Project Scarlett might be a huge letdown for any gamers hoping to see Halo or Gears of War running on truly next-generation hardware.