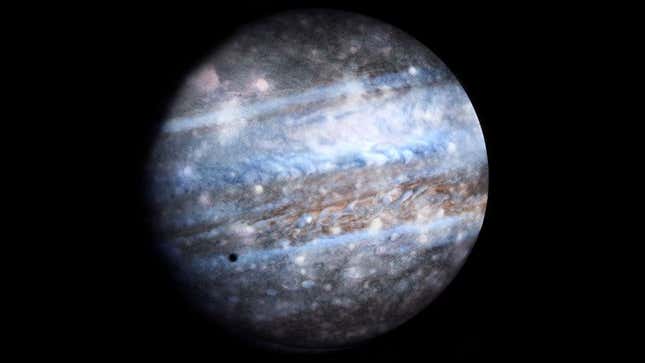 CONSTELLATION VELA—Claiming that the mere thought is an "absolute nightmare," WR 67c, a terrestrial planet from the distant Gamma Velorum star system, expressed its profound terror Wednesday at the possibility of one day gaining the capacity to sustain human life.
Edgelords Explain Why They Love Elon Musk
The 5.2-billion-year-old celestial body, which is located roughly 1,100 light years from Earth, said that for both its own sake and that of its entire solar system, it can only hope to never possess the necessary planetary characteristics and chemical elements needed to support either a deep-space human outpost or, more gravely, an entire human colony.
"Luckily, with my high levels of atmospheric sulfur dioxide, methane, and radon, there's no way any human could survive on my surface for more than a few seconds," said WR 67c, adding that it is "incredibly lucky" to have developed extremely violent and widespread volcanism in addition to its poisonous atmosphere. "But I don't know, what if I produce a magnetic field that blocks out stellar wind and cosmic radiation? What if I develop an axial tilt that fosters a mild global climate? It's terrifying to admit, but my surface temperature already sometimes drops to 120 degrees Fahrenheit at night, and their species can technically survive in that."
"Stuff like that really freaks me out," the extrasolar planet continued. "The real doomsday scenario would be someday acquiring a breathable atmosphere rich with oxygen and ultraviolet-absorbing ozone. At that point, I might as well just hurl myself at the nearest black hole and be done with it."
In an effort to allay its deep-seated fears of human habitation, WR 67c said it often reminds itself that its surface is constantly ravaged by devastating asteroid impacts and is perpetually showered by corrosive rains of pure sulfuric acid. However, because it occupies what Earth scientists have dubbed the habitable zone of its nearby star, the planet confessed that it often succumbs to sudden panic attacks in which it becomes intensely paranoid that it is developing liquid water on its crust.
The silicate-based planet also expressed a similarly crippling worry that any of its six moons could one day develop atmospheric pressure and gravity levels suitable for the human body, underscoring that it does not want humans "within 100 parsecs" of its orbit.
"Boy, I can only imagine what that awful species would do to me if they found out I have an abundance of rich mineral deposits deep within me," said WR 67c, noting that the prospect of human scientists discovering its existence has already led to debilitating bouts of stress and anxiety. "Those horrible organisms have already developed the technology for short-distance space travel, and it's probably only a matter of time before they figure out how to voyage through interstellar space."
"It's almost like I can already feel them crawling all over my surface, infesting every inch of my crust," the planet added, shuddering. "Ugh, it's best not to even think about it."
Despite its opposition to human life, WR 67c admitted no such reservations toward harboring other carbon-based lifeforms, noting that most are harmless and actually tend to form a peaceful and pleasant symbiosis with their surroundings.
"Honestly, I really wouldn't mind having certain living organisms," WR 67c said. "Prokaryotes or maybe some unicellular Mycetozoa would be totally fine—in fact, those kinds of species would be more than welcome. And most plants or animals really wouldn't bother me in the slightest. I could actually see myself happily accommodating a variety of biomes for all sorts of organisms."
"Just not humans," the planet quickly added. "Seriously, anything but those parasites."
Given that its size is roughly three times that of Earth, WR 67c acknowledged with considerable apprehension that it could theoretically house tens of billions of humans—far more than the Earth's capacity—a prospect it said was "too terrifying to contemplate." The distant terrestrial world then confirmed that should human beings ever safely step foot on its surface, it would do everything in its power to generate devastating volcanic activity and seismic instability in an effort to repel them.
However, if it proved unable to shake the species, the planet said it hoped for the nearby Wolf-Rayet star to immediately go supernova, instantly obliterating all orbiting planets in a cataclysmic burst of thermonuclear energy.
"It's absolutely horrifying to think of human beings living off my geochemistry and atmosphere, but to be honest, if I can just get through the next 50 or so Earth years, I should be in the clear," WR 67c said. "They'll definitely all be dead by then."