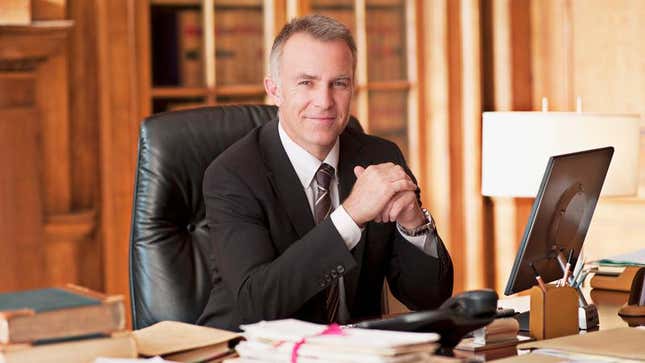 WEST CHESTER, PA—Watching him pore over case files Monday morning from his office at Chester County Courthouse, you'd never know that Sam Morris, known affectionately as Sammy by his coworkers and former handlers, has only spent five weeks as the district's top prosecutor.
Study Finds LSD Highly Effective At Ruining Nephew's Baptism
But Morris, Chester County's newly elected district attorney, clearly knows what he's doing. Over a long career in law enforcement, Morris has patrolled crime-plagued streets, chased down criminals, and worked on some of the court's toughest cases. Now he's putting his expertise to use in the D.A.'s office, a natural position for a man who, through hard work and dedication, worked his way up through the ranks from police dog.
"It doesn't surprise me at all that Sammy got elected—he was a great friend, a great coworker, and an even greater police dog," said state police commissioner Kevin Engles, who handled Morris during his early days in the force. "From the moment he bounded through the door of the K-9 training academy, we knew we had something special. He wasn't just a physically powerful dog, but he was also smart as a whip. He had a great instinct for police work and could detect scents that weren't even on the radar of other K-9 officers."
"When I saw Sammy at the courthouse the other day arguing passionately in front of a jury, I said to myself, 'That's the same intensity he used to help us find the Posner girl 10 years ago,'" Engles added.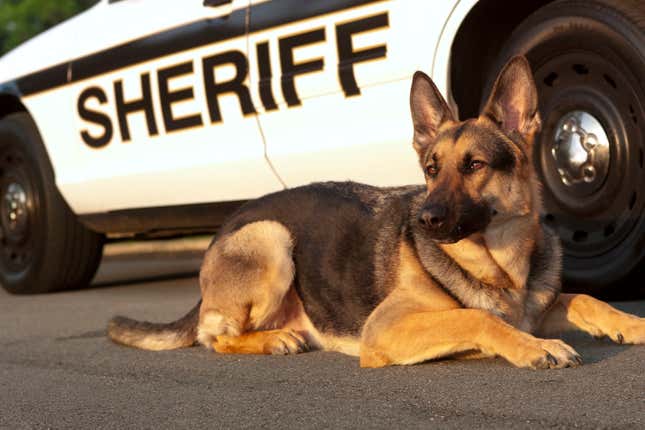 Members of the West Chester County Police Dept. recalled that from his earliest days patrolling the streets, Morris' ambitions were high. The scruffy officer seemed to always have a paw in five divisions at once, learning everything he could about criminal justice while simultaneously taking night courses at the local community college in the hopes of one day attending law school.
In the meantime, as a police dog on the beat in and around West Chester, Morris helped officers bust open some of their biggest cases. In a career highlight for Morris, the lightning-quick patrol dog, then only 3 years old, chased down two serial robbers who had broken onto private property and detained them using the "bark and circle" technique, helping police identify one of the biggest theft rings in recent memory.
Morris, however, continued to eye the highest office in the district's legal department. He rose through the ranks of the WCPD and eventually became a patrolman and then a detective. After a brief reassignment serving as a mounted horse for the Department of Public Safety, Morris was accepted at Villanova School of Law, earned a 3.8 GPA, and was hired as an assistant district attorney.
"Most police dogs are content to stay where they are—do a couple years in drug enforcement, visit a couple elementary schools, then retire by age 7," said longtime friend Barry Kiernan, a veteran policeman who has worked alongside dozens of K-9 officers. "But Sammy was different. He didn't want to spend his best years sniffing purses and barking at perps. He wanted to really reform our criminal justice system, and that's something he can do as district attorney."
"He's a good boy," added Kiernan. "A real good boy."
But Morris' rise to the top wasn't without its sacrifices. According to close friends, he almost opted out of the D.A. race to spend more time with his wife and children. Morris was married two years ago, and in addition to his 8-month-old twins, Noah and Madison, also has three older children—Coco, Smokey, and Martini—from a previous relationship.
After receiving support from his family and dozens of past and current police dogs, however, Morris decided to throw his hat into the ring, and was elected to the D.A.'s office in a landslide victory.
"Seeing Sammy expertly question witnesses in front of a grand jury, you'd never know he started out as a police dog," former partner Sgt. Jean Kerwood told reporters. "The way he meticulously conducts investigations and presents his evidence for judges, it's hard to imagine this is the same prosecutor who used to bust criminals by chasing them into back alleyways and biting them in the legs. But it's just a testament to how far Sammy has come since his years as a K-9."
"Sammy already had the speed, agility, and heightened olfactory sense to be an excellent law officer, but it took dedication and a ton of hard work to become a D.A.," Kerwood continued. "To be honest, I still don't know how he did it."