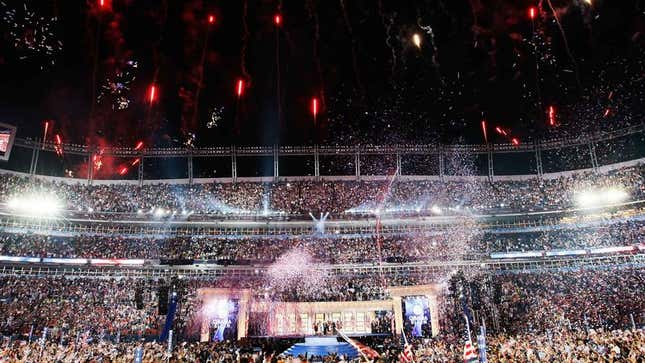 CHARLOTTE, NC—With the 2012 Democratic National Convention now under way in Charlotte, Beltway observers are reporting that the mood inside the Time Warner Cable Arena remains spirited and optimistic, despite a noticeable lack of the delusional, completely-out-of-touch-with-reality magic that characterized the event four years ago.
Worst Mistakes All Brides Make On Their Wedding Day
"While it's an honor to be here, I have to say the mood on the floor just doesn't have that same exhilarating spark of runaway optimism and absolute detachment from reality that was so thrilling back in 2008," said Illinois delegate Erin Carol, referring to the last DNC, in which a record number of supporters came together as one under completely illusory ideals of hope and change. "I still support the president, of course, but admittedly I don't quite feel as though I'm being caught up in this big, stirring wave of entirely imaginary progress the way I did four years ago."
"Hopefully at some point the convention will start to recapture that old enchanting and utterly deceptive feeling that America is on the cusp of a better and brighter tomorrow," Carol added.
According to sources, none of the students in attendance appeared to be discussing proposals for college debt-relief with quite the same degree of unthinking, asinine fervor as they did in 2008, nor did the older convention-goers seem quite as transfixed by the magic spell of actually believing they could retire with financial stability.
Moreover, not a single woman has thus far beamed with a comparable level of unfounded hope at the prospect of an equal pay bill, or excitedly, albeit idiotically, discussed the possibility of not leaving behind a thoroughly ravaged planet for their children and grandchildren.
"Obviously, people are never going to be seized by the exact same patently bullshit sense of destiny they were last time around, but I would like to see this convention have at least a little more of the totally deceptive electricity we saw in Denver," convention attendee David Lowell said. "I think maybe in the next day or two people will really start to build up to moronically thinking real change is finally on its way."
Political analysts have said that if Obama wants to regain momentum, he must use the 2012 convention to reproduce the spirit of unexamined and wholly unearned confidence that propelled millions of deluded young people to the polls in 2008, and must persuade those who voted for him four years ago that their sad, childlike trust was not misplaced.
In addition, sources confirmed that in order to recapture the nonsensical, preposterous magic of Denver, DNC organizers will have to create a program in which starry-eyed promises of bipartisanship, economic recovery, and relief for the middle class will be received with the same feeling of moronic glee that pervaded Mile High Stadium.
"It's definitely going to be tough to restore the misguided enthusiasm and baseless belief in a new tomorrow to the levels we saw four years ago," said 54-year-old Linda Morrison, an Obama campaign volunteer. "Then again, if Obama gives a great speech on Thursday, and really wows people with the stirring, if ultimately meaningless, power of his words, then maybe we can be filled with the kind of foolish idealism that carried us through in 2008."
Added Morrison, "I'm certainly open to it."