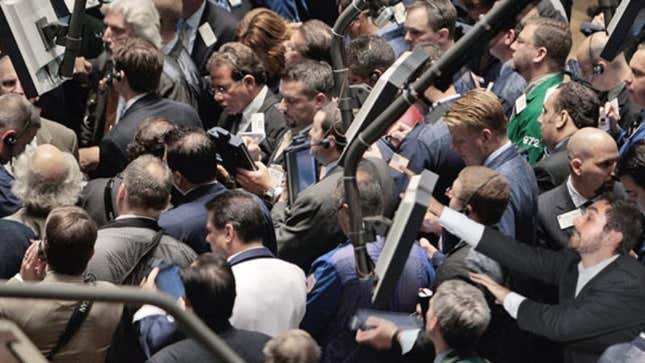 NEW YORK—Wall Street investors experienced a sudden surge in optimism Tuesday when, after six tumultuous weeks that saw record drops in the Dow Jones industrial average, a $1 bill was spotted on the floor of the New York Stock Exchange.
This Week's Most Viral News: September 22, 2023
The dollar bill was discovered in the northwest corner of the trading floor at approximately 12:05 p.m., and its condition was reported as "crinkled, but real." Word of the tangible denomination of U.S. currency spread quickly across the NYSE, sending traders into a frenzied rush of shouting, arm-flailing, hooting, hollering, and, according to eyewitnesses, at least one dog pile.
"With credit frozen and the commercial paper market poised on the brink of collapse, this is the most promising development I've seen on Wall Street in months," said floor trader Tim Formato, one of hundreds who gathered around the $1 bill and excitedly called their clients to inform them that they were looking at actual U.S. tender. "I think I touched it."
According to witnesses, the trading floor was soon abuzz with energy, as traders pointed at the dollar and repeatedly shouted "Look!" and "Money!" A proposal to divide the $1 note into 1,300 equal pieces and distribute them amongst investors was considered, but ultimately rejected. Early reports estimate the dollar may have passed through as many as 65 hands before disappearing in the late afternoon.
The bill's absence, however, did not deter the growing enthusiasm from those on the trading floor. By 2:15 p.m., more than 60,000 shares had been purchased in the new publicly traded asset, DLR, after brokers placed a flurry of calls advising their investors to buy into the booming single-dollar market.
By the close of day, economists were estimating the dollar bill's net worth at just under $270 million.
"We couldn't be in a better situation right now," trader Patrick Kady said. "Unless of course it had been a euro."
However, some financial advisers are warning against the rampant speculation the dollar has caused on Wall Street. Many have cautioned investors not to make rash decisions, such as liquidating all their low-risk government bonds in order to sniff the green paper bill for just a minute.
"I bet it smells like rose petals," mutual funds specialist Ken Stoute said. "My friend's friend Tim Formato? He's on the board at Westminster Securities and he says he touched it. He said it was warm and soft and wonderful. He said he knows where it is now, and I can put in an option on seeing it tomorrow for only $85."
Since the appearance of the dollar, the Dow has spiked an impressive 993 points—its largest gain ever. Initial numbers are showing the most sizable rises in technology stocks, a trend some are attributing to Microsoft's CFO Chris Liddell, who toured the trading floor Tuesday morning with the bill stuck to his left shoe.
The overall projection for the market following the incident has been positive, with many analysts claiming that the $1 bill may be an indication of other spare change lying around. This, coupled with reports out of Europe that there is a German college student who has not yet hit her credit card limit this month, could be enough to stabilize the Dow and jump-start the global economy once again.
"This is just another sign that the U.S. economy is as strong and resilient as it has ever been," said Richard Fuld Jr., former CEO of Lehman Brothers. "I'm just glad we finally have these credit and subprime mortgage loan crises behind us. This $1 bill will carry us through another 10 years of reckless, unregulated borrowing."
Added Fuld, "Just for God's sake, don't invest it in the stock market."