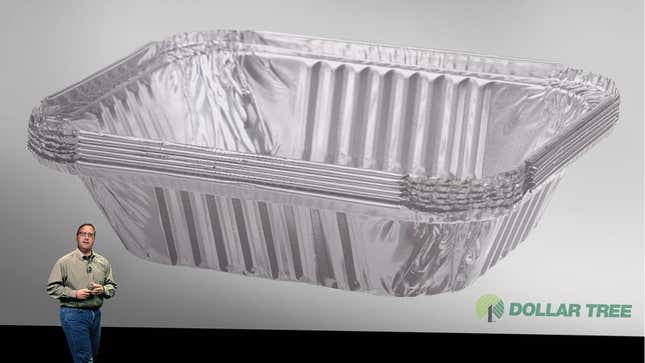 CHESAPEAKE, VA—At a highly anticipated launch event Tuesday, Dollar Tree CEO Bob Sasser ended months of fervent speculation over the latest phase of the national discount chain's massively popular and influential kitchen products line by unveiling the company's new foil baking pan.
CDC Issues Dire Warning That Nick Cannon Is Feeling Horny
Granting a first look to members of the media and a select group of impassioned retail industry insiders, the chief executive touted Dollar Tree's upcoming aluminum pan as a revolutionary combination of design, functionality, and style that represents a bold step in the ongoing evolution of bargain cookware.
The pan will be listed at the suggested retail price of $1.
"The wait is finally over!" Sasser said to a throng of roaring event attendees while gesturing toward a rotating image of the sleek new cooking accessory broadcast on a large projection screen in the company's cavernous, fluorescent-lit exhibition hall. "With our latest release, we have completely rewritten the rules on what a foil casserole dish can be, and, in just a few short months, customers will have the future of non-metal sheet cooking at their fingertips."
"We've done it!" Sasser continued to thunderous applause and a barrage of camera flashes. "Affordable bakeware will never be the same!"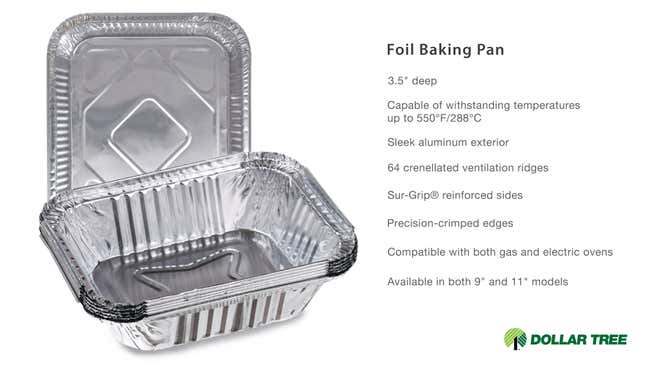 The product announcement comes on the heels of last year's award-winning soap-handle dish sponge, and, according to Dollar Tree officials, represents the latest innovation for a company that has already enjoyed tremendous success in the fields of cleaning products, shower curtains, mouse traps, swim goggles, Halloween decorations, and off-brand breakfast cereal.
The groundbreaking piece of cookware, which will be available in both 9- and 11-inch models, reportedly boasts precision-crimped edges; an unprecedented 64 side ridges; the company's iconic, streamlined aluminum exterior; and a durable and incredibly lightweight design.
Though Sasser said customers will not be able to "enjoy the greatest cheap-baking-pan experience in humankind" until its official launch date of October 22—at which point it will be sold exclusively at Dollar Tree's nearly 4,500 strip-mall locations—industry analysts are reportedly already abuzz over what has quickly become the hottest item in discount retail.
"There's a lot of chatter about the new rollout, and I can guarantee that Dollar Tree's legions of followers are absolutely going to love this pan," said consumer goods reviewer Marcus Levine, who predicted the store's new release will once again set it apart from would-be competitors Dollarama and the 99-Cent Only Store. "I've been playing around with an advance copy, and I can say without hesitation that you'll be seeing this dish in every customer's shopping basket this holiday season, right between the three-liter bottle of Stars & Stripes grape soda and WWE trading cards."
"I expect lines to snake from Dollar Tree's sliding doors all the way past numerous abandoned buildings that haven't been occupied for years," Levine added.
In order to market the product, Dollar Tree executives are reportedly planning an aggressive multi-platform promotional campaign that will include in-store circulars and newspaper inserts. Bargain cookware bloggers agree the confident approach seems to indicate Dollar Tree believes it has another winner, and that the baking pan will be an unfettered success once it joins the company's toilet brushes and wrapping paper Twin-Paks on store shelves this fall.
However, some aren't buying into the hype.
"It seems like every year we see some kind of new opened pack of pantyhose or Conan the Barbarian action figure that's supposedly the next big thing," said Philadelphia woman Meredith Culver, who claimed she was unimpressed by the new product's "lackluster" feature set. "If you look at the specs, it doesn't look like this thing is even deep enough to handle a loaf of Mamma Bella ready-bake garlic bread. And for the price of what Dollar Tree's selling, I can go to the Save-A-Lot and get three perfectly serviceable baking pans without any of the flash."
"Besides, I bought one of their 9-inchers last year, and it honestly doesn't look like this new version changed much of anything," Culver continued.