WASHINGTON—Secretary of Transportation Mary Peters unveiled a new $270 billion federal project Monday to build special lanes for dangerous and careless drivers on most major U.S. highways.
"These new lanes are for the millions of drivers who can't be bothered with speed limits, turn signal use, or not careening madly out into oncoming traffic," Peters said during the opening ceremony for the first reckless-driving route, a steeply banked, guardrail-lined on-ramp to I-395 outside Arlington, VA. "Whether hell-bent on putting themselves and everyone around them in danger or just drunk off their gourds and out for a simple joyride, America's reckless will no longer be forced to putter along with careful, conscientious, considerate citizens."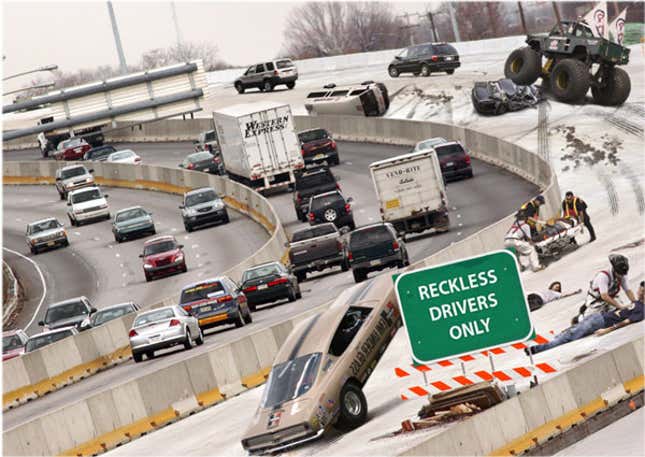 Peters then cut the ribbon on the inaugural lane by speeding through it in a rusted-out 1984 Chevy Cavalier, steering with her knees as her left hand held a cup of hot coffee aloft and her right hand slapped her 4-year-old daughter sitting in the back seat.
Peters said the Department of Transportation plans to construct some 1,400 of the new lanes over the next four years, all of which will feature a special bowl design to keep cars in the lane while drivers are sleeping, drunk, applying makeup in the rearview mirror, receiving or performing oral sex, or drumming along on the steering wheel while singing "The Immigrant Song" at the top of their lungs. Padded concrete embankments and steel-rail barriers will line the lanes in urban areas, and rumble strips will be cut into the pavement every 100 feet in an attempt to help keep drivers alert.
All of the lanes will also feature ramps.
"We wanted to make these reckless-driving lanes as convenient as possible," said Harold Bovy, chief engineer on the project, who added that his team's main priority was containing drivers while allowing emergency vehicles the easy and frequent access they will require. "So we made sure that once reckless drivers are in these lanes, they can only leave them by designated funnel-shaped ramps or in the full- service hearses that will be stationed 24 hours a day at any number of convenient rest areas."
Amid mounting pressure from drivers, the DOT decided to start planning for the new lanes last fall. The department sought out input and suggestions from motorists who, according to Peters, "really know how to drive" or simply believed traffic laws to be for "suckers."
"We made sure to interview a broad spectrum of dangerously incompetent and inconsiderate pricks," said Peters, who stressed that the DOT sent questionnaires exclusively to drivers who have had five or more accidents in as many years or have been issued at least three 100-mph-plus speeding tickets in the last six months, as well as all members of the Corvette Club of America. "Their feedback was invaluable—so much so that we hired many to drive test sections of the highway. Several of those drivers will have sections of the new lanes named after them in memoriam."
While some have raised concerns that law-abiding citizens will be tempted to try the new lanes and get into life-threatening situations, DOT officials claim they will be self- enforcing, self-regulating, and, with proper drainage and fluid grooves, self-cleaning. Nevertheless, steps are being taken to prevent their use by non-reckless drivers.
Signs will be posted to warn regular drivers that they must drive either under 30 mph or over 90 mph, and that their auto insurance is void in the special lanes. Additional wordless signs, intended for the reckless drivers themselves, will feature the icon of a swerving 1988 Mercury Grand Marquis with subwoofer lines emanating from the body and a mattress tied to the top with a single length of twine.
Praise for the new lane from drivers has been widespread and immediate.
"This is something real drivers have wanted for years," said Kevin Louden, who has received 17 moving violations in his nine years of driving. "Now I can haul ass the way God intended without worrying about the safety of others."