ST. PETERSBURG, FL—Tampa Bay Rays officials and Tropicana Field stadium management announced Wednesday night that, due to an unfortunate and unresolved scheduling conflict, the facility would continue to host the first ever Haunted House World Series. Executives apologized for Game 1 being repeatedly interrupted by shrill, gut-wrenching screams emanating from the stadium's sound system, the players' inability to field ground balls around the Infield Maze of Gore, and haunted house actor/Rays third baseman Evan Longoria leaving every half inning to grab his Leatherface mask and chainsaw.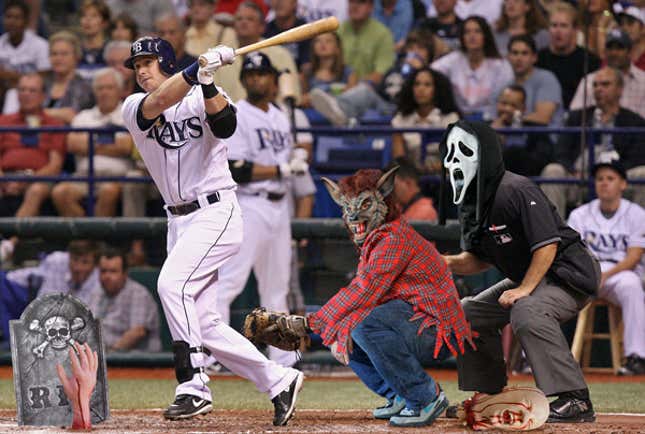 This Week's Most Viral News: September 29, 2023
According to vice president of stadium operations Rick Nafe, who said he "deeply regrets" the double booking, dates for the haunted house were reserved in late July, a time when the possibility of the stadium being used for the World Series did not seem realistic to anyone in the Rays' front office.
The Rays were two games ahead of the Boston Red Sox in the American League East standings at the time of the booking.
"It's our tradition, each year during Halloween, to transform Tropicana Field into the Spooktacular Spook Dome," said Nafe, who dressed in a Count Dracula costume for the press conference and spoke to reporters in a Transylvanian accent. "Coming out to the ballpark to scale the Spook Dome's Catwalk to Hell and spending three demonic minutes inside the flesh-searing Sauna of Satan is what late October at Tropicana Field is all about. Why, this year customers may find out if the evil spirit of Wade Boggs really does haunt this place."
"Mwah hah haaaaa," he added. "So scaaary."
Saying the cold, dank, dilapidated stadium is the perfect place for a house of horrors, Nafe stated that he would under no circumstances relocate the Halloween festivities, even though several customers were taken to the emergency room Wednesday night after being struck in the back and chest with line drives while participating in a Spooky Scavenger Hunt in shallow right field.
In addition, Nafe told reporters that Rays team members would continue working as guides and actors in the haunted house, as is clearly stipulated in their player contracts.
"Matt Garza is great at popping up out of the home plate casket dressed as the Wolfman and scaring the bejeezus out of people," Rays general manager Andrew Friedman said. "You should have seen the expression on Ryan Howard's face when he was at bat last night. Priceless."
Howard wasn't the only player whose on-field performance was affected. Rays left fielder Carl Crawford repeatedly tripped over the many blood-drenched rubber hands emerging from the outfield turf. Phillies pitcher Cole Hamels mistakenly picked up a handful of spaghetti-textured human entrails instead of his rosin bag. And after entering the Bloodcurdling Clubhouse and witnessing a machete-wielding, hockey-masked Willy Aybar chopping off what he thought were Scott Kazmir's real legs, Rays shortstop Jason Bartlett suffered a massive coronary.
Rays center fielder B.J. Upton was unable to play in the game because he was reportedly overseeing the haunted hayride outside the stadium.
"I thought I could handle it this year," said a visibly shaken Rocco Baldelli, who removed his blindfold to both catch a fly ball and calm his nerves. "The Spook Dome just keeps getting scarier and scarier. In 2007, it was a bowlful of fake eyeballs that freaked me out even though I knew they were fake, and then this year it was those creepy trees with the blinking eyes."
Added Baldelli, "I guess all that compounded with the pressure of trying to win a championship for the first time in team history is just too much for me."
"I'm scared," Phillies second baseman Chase Utley said. "I swear to God those spiders were real. Also the dim lights combined with the fog machines make it impossible to see pitches, which is also really frightening."
Though sources from the Phillies and Rays said haunted-house conditions such as the cobweb-strewn dugout chandeliers, ghoulish noises coming from seemingly everywhere, and Tropicana Field's horrific batted-ball-hitting-the-catwalk rule could hurt their World Series chances, they conceded that both teams have to play through the same tough elements.
Tampa Bay residents, however, weren't as understanding.
"These baseball games are getting in the way of the haunted house," Adam Caldwell, 32, said.
A majority of locals seemed to echo Caldwell's sentiments. As of press time there are still thousands of tickets available for Games 2, 6, and 7 of the World Series. Tickets for the haunted house, however, have been sold out since August.