CHICAGO–A deadly meatwave swept through the Chicago area over the weekend, leaving an estimated 40 residents dead of steaks, chops, ribs, bacon, and various other forms of meat exhaustion.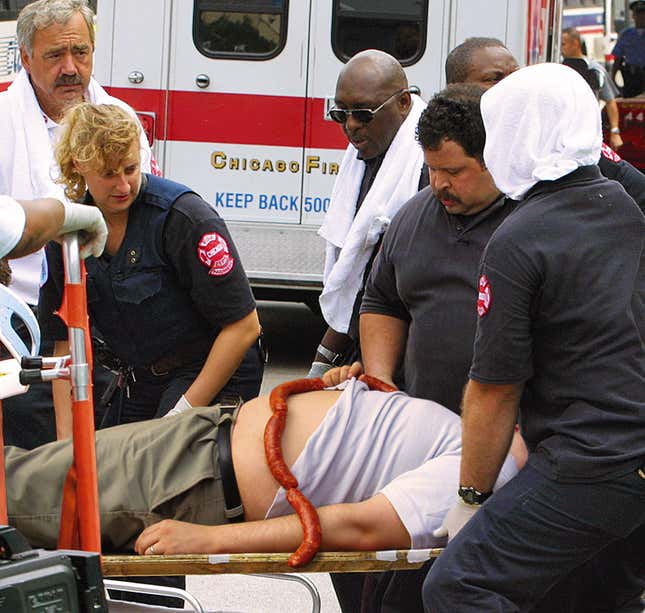 This Week's Most Viral News: September 29, 2023
"This is easily the worst meatwave I've seen around these parts since the summer of '79," said John Gruznek, a Chicago gravicologist. "Most of the bodies I've examined were bloated beyond all recognition."
"The excessively high level of pork loins, sirloin tips, bratwurst, and other meats was indisputably the number-one factor in these deaths," said Chicago mayor Richard Daley, speaking from his temporary command center at Ruth's Chris Steak House on North Dearborn Street. "Most of these people consumed a considerable fraction of their weight in animal flesh before ultimately succumbing to meatstroke."
"This meatwave," Daley continued, "is a clear hazard to anyone capable of chewing and swallowing Chicago's vast array of delicious, succulent meats."
Max Peltz, director of Emergency Medical Services And Barbecue for Cook County, said that non-stop ingestion of beef, pork, chicken, lamb, and veal had caused the victims' digestive systems–and, ultimately, their entire bodies–to shut down.
"The human body, as you may be aware, is roughly 60 percent water," Peltz said. "However, many don't realize that it's also 75 percent meat. If that percentage rises too high too quickly, it may result in a distended stomach, intestinal bloating, and even death. Believe me, it's not a pretty way to go. A coroner never forgets the first time he examines the body of someone who died from roast-traumatic stress."
According to Peltz, the meatwave victims' causes of death have ranged from cardiac beefurcation to smoked-sausage inhalation. There has even been one confirmed indirect meat-related fatality, a 51-year-old Evanston man who died from a catastrophic smothering in mushrooms and onions.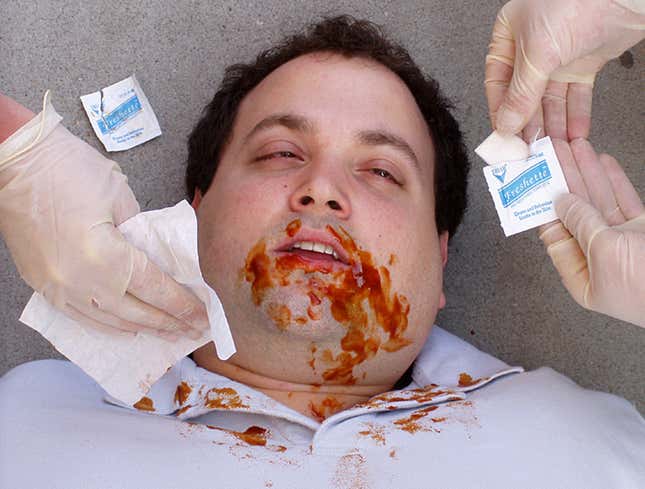 Chicago public-health officials are urging residents to stay in their homes, advising them to lay out extra napkins and carving forks, drink plenty of water, and venture outside only to procure Zantac, Tums, and Immodium AD. Yet despite such warnings, the meatwave-related casualties continue to mount.
"This happens every few years in Chicago," said emergency worker Peter Barreras. "People in this town act pretty tough, and they always say the same things: 'I can handle the meat.' Or 'You call this a hot dog?' Or, my favorite, 'It's just a hot wing. How much can one little hot wing hurt me?' Well, I'll tell you. A lot."
Barreras said that for a meatstroke victim, familiarity with basic first-aid can be the difference between life and death.
"If you or someone you're eating with collapses from The Meats, know what to do," Barreras said. "Many people think that administering them emergency salads or tofu is the way to go, but the shock to the system is too great. Bring their meat index down gently and gradually by first immersing them in cold cuts. Call a doctor and talk to them while you wait for help to arrive. Under no circumstances should you let them have another pork chop, ham slice, or New York strip. Administer a solution of turkey tetrachloride, give them coffee, and don't let them lose consciousness."
Meateorologists speculate that the deadly meatwave was caused by a stationary high-protein ridge extending along the shore of Lake Michigan. They fear that Milwaukee and Kansas City could be next.
"Mother Nature sure has cooked us up a big one this time," Peltz said. "If it's this bad now, imagine what'll land on the city's plate during Taste Of Chicago."
If the meatwave continues through next week as predicted, the death toll could reach 100, making it the worst natural food disaster since the San Francisco Panquake of 1970.