NEW ORLEANS—Drew Brees, Super Bowl–winning quarterback of the Saints and local hero, spent a few minutes during a routine press conference Tuesday wondering aloud if he could get away with murdering someone on the streets of New Orleans in broad daylight.
His curiosity visibly piqued as he spoke with reporters, Brees continually came back to the topic of murder, even when answering football-related questions about last Thursday's sloppy win, his thoughts on his offensive line, and teammate Reggie Bush, who Brees said he could probably murder without getting into any sort of legal trouble whatsoever.
"Things are going very well for me here, and every day I am thankful I chose to come to New Orleans," Brees said in response to a question posed by Times-Picayune reporter Mike Triplett about the Saints' current popularity. "Seems like I could probably just walk up to someone, knife him in the gut or shoot him point-blank in the face, and then walk away without anyone doing anything."
"Just thinking out loud is all," Brees added. "I mean, we're coming off this city's first Super Bowl win, and we just beat the Vikings in the season opener, and people would probably just think, 'Hey, if Drew wanted him dead, he must be a pretty bad guy.'"
Due in large part to his efforts to help rebuild the city after Hurricane Katrina and the BP oil spill, Brees, more than any other Saints player, is adored by New Orleans residents—a fact the Pro Bowl quarterback called "both humbling and intriguing." According to a contemplative Brees, his status in the community would more than likely allow him to acquire a firearm with very little difficulty.
G/O Media may get a commission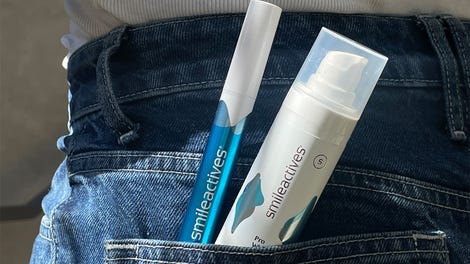 58% off
Whitening Powerhouse Pen & Gel Duo
Brees later noted it was "kind of interesting" that at no other point in his life except for right now could he choke someone with his bare hands and get off scot-free.
"I'm the team leader, so I get all the glory when we win and all the blame when we lose," said Brees, who forever won the hearts of his adopted city when he held his infant son Baylen, tiny head dwarfed by hearing protectors, as ticker tape from the Saints' Super Bowl victory celebration fell around them. "Therefore, it's only natural to presume that if someone could get away with shanking someone in a vacant lot, it'd be me."
"Even if there were witnesses, and I was wearing my jersey," Brees added. "In fact, it would probably be better to wear my jersey, if you see what I mean. Interesting how celebrity is viewed in this country. Anyway, what were we talking about? Murder?"
When informed of Brees' comments, some New Orleans residents seemed to find the quarterback's words troubling.
"I don't understand—Drew wants to kill someone?" said newsstand owner and Saints fan Bobby Kearny, 53. "Who is it? Because I'll take care of that for him so he doesn't have to lift a finger, no questions asked."
"Drew can kill me if he wants," said Esme Carlinda, 72, who has followed the Saints since the founding of the franchise in 1967. "My family, too. With everything he has done for this town, he just has to tell us where and when and we'll be there."
New Orleans police superintendent Ronal Serpas said that he had reviewed Brees' remarks, but did not intend to pursue the matter officially, adding that he wouldn't want to interrupt Brees' preparation for Monday night's game against San Francisco.
"Obviously, Drew was just commenting on his popularity and chose a rather unfortunate way of expressing himself," said Serpas, noting that Brees would be treated like any other citizen if he happened to become a person of interest in a criminal case, provided that citizen were a beloved Saints player. "Yes, it was a little unnerving to see him walk around the media room, pointing at reporters and security guards and saying, 'I could murder you and you and you and you,' but if anyone has the right to do that, it's Drew Brees."
"And no, we have no suspects in the recent rash of Ninth Ward stabbings, and as far as we're concerned, we never will," he added.
For his part, Brees has refused to elaborate on his comments from earlier this week, stressing that the team has a lot to accomplish this season and cannot afford to become complacent. However, he still appeared to be consumed with thoughts of murder.
"The Super Bowl honeymoon during which you can murder people without repercussions is a lot shorter than people think," Brees told reporters after Thursday's practice. "That said, if we repeat, I could probably get away with busting open the levees again."