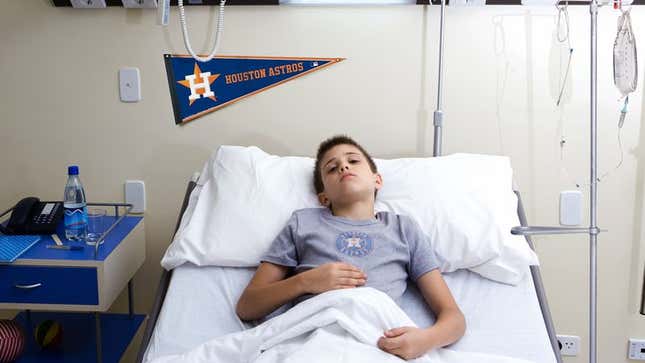 HOUSTON—Danny Kelvin, a 10-year-old Astros fan suffering from an advanced form of acute lymphoblastic leukemia, told reporters Thursday that he is just trying to hold on until the team develops a player actually worth meeting.
This Week's Most Viral News: June 2, 2023
"It'd be so cool to get to get my glove signed by a power hitter who can, I don't know, get more than 30 home runs during the regular season," said Kelvin, who has been in the hospital for the last 11 months receiving aggressive chemotherapy treatments on a weekly basis. "I think if I could meet a player like that, it'd really lift my spirits and take my mind off of all this medical stuff. But there isn't really anyone who can do that on the Astros right now, so I'm just going to try to get by for a little while longer."
"That right-hander Mark Appel they drafted a few weeks ago looks like he could be pretty good," Kelvin continued. "If he pans out into a dominant pitcher—or even just a serviceable one—I'd love to maybe eat some ice cream with him in my hospital room or something like that."
Kelvin, who was originally diagnosed with cancer in June of 2012, told sources that he would love nothing more than to spend an afternoon with a legitimate star player on the Astros roster.
The 10-year-old confirmed that the fantasy of meeting a Gold Glove winner from the Astros helps him push through the extreme fatigue, near-constant joint pain, difficulty breathing, and sporadic seizures caused by his particular form of leukemia.
"It would really mean a lot to me to just have a quick little catch with a player who's shown up on a SportsCenter Top 10 Plays reel," said Kelvin, adding that he spends most of his free time at the hospital constantly looking up Astros' minor league prospects in search of players with any actual potential. "I'm not giving up though. I know that I have to do my best to stay strong and fight the disease for a few more seasons."
"Just have to keep a positive attitude, right?" Kelvin added.
According to Kelvin, while spending a few hours with the likes of second baseman Jose Altuve or catcher Jason Castro "would be okay," the 10-year-old is hoping to survive to meet an Astros player who has at least made the AL All-Star Team or led the league in just one of the major statistical categories. Kelvin went on to say that he has no interest whatsoever in chatting with anyone from the Astros' current batting lineup, stressing that he has to conserve his energy and would only exert himself to meet a player whose name is recognized outside of the immediate Houston area.
The terminally ill child also revealed to reporters that a surprise visit two weeks ago from Astros outfielder Trevor Crowe "just left [him] downright depressed."
"You know what, at this point I'd honestly take a meet-and-greet with a guy who can just hit a double," said Kelvin. "Or maybe a player who can steal a base every once in a while. Or even just someone who isn't sent back and forth from the minors every few months."
"Am I being too unreasonable here?" Kelvin added. "Because I really don't think I am."
While Kelvin continues to hold out hope for an eventual meeting with a Houston Astros player of some regard within Major League Baseball, his parents admitted to reporters that they couldn't bring themselves to temper their son's expectations.
"His pediatric oncologist only gave him about six to seven more months, so time's really not on his side if he wants to meet an Astros player with even a somewhat respectable batting average and on-base percentage," said Danny's father, Alex Kelvin. "It would really mean the world to him, and even though we're obviously praying for a miraculous recovery, I just don't know if he'll ever get to fulfill this dream."
"But after all the poor kid's been through, I just don't have the heart to give him false hope and tell him the Astros will bring up a half-decent player anytime soon," the father added.
At press time, Kelvin had angrily rejected the opportunity to meet members of the Houston Texans visiting the children's cancer ward, claiming that he "doesn't want to meet any of those injury-prone losers either."