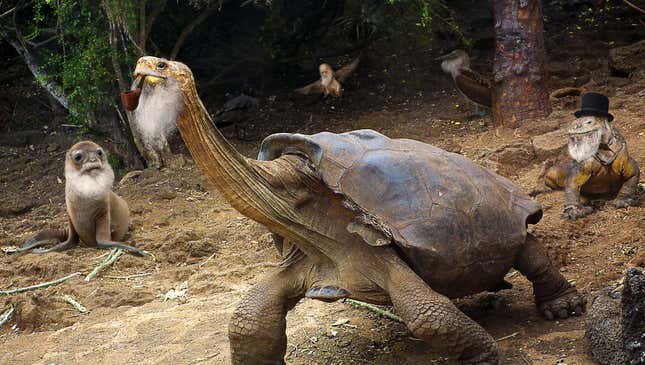 PUERTO BAQUERIZO MORENO, ECUADOR—Describing an astounding variety of naturalists previously unknown to science, a team of ecologists from Stanford University announced Friday the discovery of more than 400 species of Charles Darwin living in the Galápagos Islands.
This Week's Most Viral News: September 29, 2023
The Darwins, which researchers said have evolved to fill a staggering array of ecological niches throughout the archipelago, appear to have developed dramatically varied biological structures through the process of speciation, exhibiting beard lengths, for example, that range from closely cropped in some species to past the knee in others. Members of the Stanford team said they could tell which island a Darwin was from simply by studying the shape and thickness of its mutton chops.

"The breathtaking diversity of Charles Darwin we see in the Galápagos is the result of each species having adapted to survive in different environments," said head researcher Dr. Robert Colletti, citing the example of a cold-blooded, 6-inch-long scaly Darwin that can fit into small holes on the sides of volcanic cliffs. "We see Darwins of every conceivable sort, like an avian Darwin with a sophisticated vocal mechanism that allows it to mimic observations about natural history, or a bright pink, feathered Darwin that stands on long legs in shallow water and gets its color from the massive quantity of brine shrimp it consumes."

"Our analysis of the fossil record suggests all the Darwins likely descended from a single ancestor that arrived from the mainland approximately two centuries ago," Colletti added. "It's absolutely remarkable."

The ecologists explained that the proliferation of Charles Darwin in the Galápagos began with a now-extinct mammalian species, which at one time roamed the islands foraging for specimens of flora and fauna it could collect, place into categories according to their physical characteristics, and then carefully label before sending off to Cambridge University for expert analysis by contemporary naturalists.

As time passed, many highly adaptive traits appear to have emerged in its descendants, such as the thin, nimble talons that allowed one species of Darwin to examine the physiology of earthworms and determine its effects upon the soil before going on to write a popular book on the subject. Another remarkable adaptation can reportedly be observed in the still-extant citron-crowned Darwin, which displays its brilliantly colored bald spot during its courtship dance to woo sexual partners with its presumed virility.

According to Colletti and his team, most Charles Darwins are now vanishingly rare, as are many of the species that depend upon them, including a critically endangered orchid that can only be pollinated by one uniquely adapted Darwin with a 12-inch-long proboscis.

"We must act quickly if we wish to save the Darwins," said Colletti, expressing concern about the potential overfishing of aquatic Darwins, which he worried would be traded as exotic pets or sold as meat. "Throughout the Galápagos, invasive species represent a real threat: Darwins are unable to compete for scarce water with large land mammals such as cattle and donkeys. And even the fittest Darwins, unfortunately, are unable fend off attacks from the feral pigs that now roam the islands."

Though scientists cannot be certain what caused the sudden explosion of divergent Darwin species 200 years ago, they have noted that newly unearthed journals of the British naturalist Charles Darwin describe in detail the many nights he spent alone in the Galápagos longing for the intimate embrace of another.