'I'm A Flawed Man, But There Is Love In My Heart' Vice President Says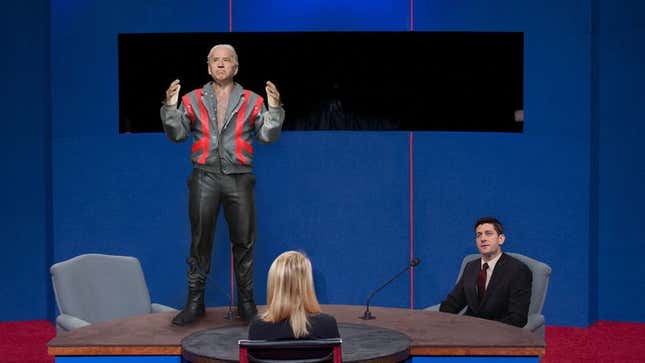 This Week's Most Viral News: September 29, 2023
DANVILLE, KY—In what observers called a stunning and unexpected display of oratorical eloquence and candor, Vice President Joe Biden delivered a deeply articulate and heartfelt speech at the conclusion of Thursday night's vice presidential debate, reportedly moving the entire audience at Centre College to tears.
After moderator Martha Raddatz asked Biden to give his closing statements, the former senator stared down at his prepared statement for several moments before setting it aside, standing on top of the table in front of him, and sharing a series of frank, poignant personal reflections as a surprised and reverent hush fell across the auditorium.
"I know people expect me to embarrass myself right now, or to do something reckless or silly, but I'm not going to do that—not tonight," said Biden, his voice suddenly tinged with what observers described as a degree of warmth and tender regret never before heard from the veteran politician. "I know how you people see me—the fast cars, the hitchhiking, the trips to Juárez. You know me, ol' stumbling numbnuts Joe Biden. Right? Well, shit, I'll be the first to admit that I ain't no saint. No, sir, I suppose I ain't much of a role model, either. But when it comes right down to it, even with all my flaws, I am a human being. With hopes, with dreams, and with love in my heart."
"Go ahead and laugh at Uncle Joe, or call him a fool if you like—I'm not going to stop ya," Biden continued. "But know that I have a soul, and that my soul bleeds. Hell, I may not always know which way I'm going, or why, but god damn it if I'm not trying the best I can. The everloving best I can."
Biden then reportedly paused, pulled a carton of cigarettes and a Zippo lighter from his back pocket, lit a cigarette, took a few puffs, and stared silently at the ceiling before once again addressing the audience.
"Listen, I know I'm the last person in the world to give you all a lecture on morality," said Biden pacing the tabletop as the auditorium lights laid bare every world-weary crease and crevice in his 69-year-old face. "I've sure as shit made my fair share of mistakes. I've ridden through some pretty dicey places in my Trans-Am, had one or two run-ins with the law, and spent more than a few nights in county. I've done things…terrible things. I've got a list of regrets a mile wide, and there are nights when those regrets frankly tear me up inside. Just tear me right up."
"But despite all this, I still have my dignity," Biden added. "And nobody can take that away from me, no matter what. It's what keeps me human. It's what keeps me alive."
Sources confirmed the Obama campaign was completely taken aback by the vice president's sudden departure from the expected debate rhetoric, having reportedly instructed Biden to "stick to the issues" and refrain from going off-topic. However, many staffers were said to be incredibly moved by the sincerity of Biden's words, with senior campaign adviser Robert Gibbs calling it "a revelation" and "a glimpse into the bruised soul of a man who's lived 10 lifetimes."
While acknowledging the ongoing criticism of Obama over the past week, a misty-eyed Biden offered an honest and personal account of his running mate while arguing for voters to give the president a second term.
"We've been through some crazy times, me and Barry," said Biden, taking a quick swig from a flask he pulled from the inside pocket of his leather jacket. "He's caught me on his roof doing some stuff I probably shouldn't have been doing. Stuff I'm not proud of, despite how cocky I might act. But you know what? I trust him. And he trusts me. I don't want to make some big political speech up here, but I will tell you right now that Barry's the guy to lead us. He's a good fuckin' man. What's more, he's my dear friend. And I love him."
Sources present at the debate claimed Biden became especially emotional in the middle of his speech when he spotted his wife of 35 years, Jill, in the audience.
"Jesus, Jilly…my beautiful, beautiful Jilly," said Biden, turning to speak directly to his wife. "Darlin', I know I haven't been the perfect husband. Shit, far from it. I've done some things with other women that have really put you in a tough spot. But you gotta believe me when I say that I never, ever meant to hurt you."
"I love you with all my heart, Jilly," added Biden, who maintained a stoic expression as his eyes welled with tears. "I always have, and I always will."
Wiping his eyes, Biden finally made a heartfelt appeal to Americans to try, "if they could," to see "the real Joe."
"My name is Joseph Robinette Biden Jr.," said the vice president, his voice choking. "Over the years I have been made an object of mockery and ridicule. I have seen pictures of me in the most humiliating positions you can think of plastered across newspapers all over the world. I have been treated as a punch line. A dope. A fuckin' jester among kings. But don't be fooled. I am also a man who has touched sorrow. And I am a son of a bitch who has spent nearly seven decades on the razor's edge and lived to tell the tale. I may not say it often, and I may never say it again, but I wish to say to you now that I am also a man worthy of love. And worthy of respect."
"Thank you all so damn much," Biden added. "I just…I love this country, man."
Wiping his eyes, Biden then descended from the table and sat back down as the tearful and blindsided audience attempted to make sense of what they had just witnessed.
After nearly a full minute of deeply moving silence, Biden then whistled loudly and admitted to the assembled crowd that he had "a huge fuckin' woody right now."