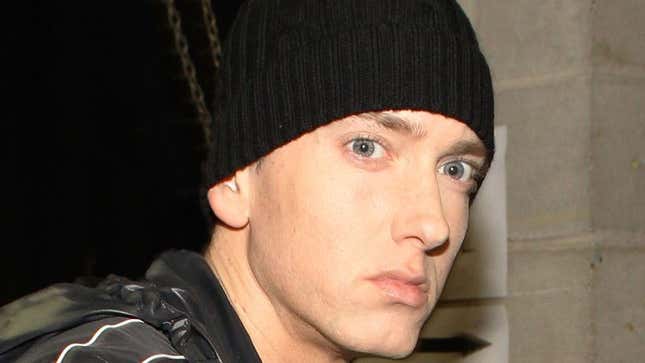 ROCHESTER, MI—Hip-hop artist Marshall Mathers, a.k.a. Eminem, said he was left wholly terrified today after meeting his daughter Hailie's new boyfriend Justin Denham, an 18-year-old who was reportedly raised on the rapper's music.
104-Year-Old Man Awarded WWII Medal Just To Be Nice
Saying he could barely fathom the thought of Hailie, 17, with a man who ever enjoyed listening to, or was inspired by, his often misogynistic and violent lyrics, Eminem, 40, claimed he was disturbed from the second Denham said he was "a huge fan" of all of the rapper's seven albums.
"Justin said I was his favorite artist when he was growing up, and now he wants to go out with my little girl," said Eminem, telling reporters he didn't even want to imagine what Denham's views on relationships could possibly entail given his self-professed love of albums that include songs about mutilating women. "Honestly, I don't really know what I'm supposed to do here. How am I supposed to let Hailie go out with a guy who says I was a huge influence on him and all of his friends?"
"I mean, this guy's probably listened to my song 'Kim,'" Eminem continued. "I rapped about cutting my wife's throat and then driving around with her in my trunk in that song. Jesus."
Citing lyrics where he discussed raping a woman with an umbrella to "make her pussy wider," the visibly shaken multi-platinum artist said he can't imagine sitting by while his oldest daughter spends time alone with a man whose worldview could have been even slightly influenced by any of his songs.
Eminem added that while Hailie has repeatedly claimed Justin is a "good guy who treats her well," he seriously doubts anyone who likes the song "Kill You," where he brutally describes killing a woman and hiding her in a closet, could ever be a decent person.
"His favorite song is 'Superman'—a track where I said I was going to put anthrax on a girl's tampon and slap her until she can't stand," said Eminem, adding he could only imagine the types of drugs and alcohol songs like "Purple Pills" and "Crack A Bottle" had led him to do. "He better not think he can get away with all this stuff with Hailie. Or maybe he does. I mean, this is a guy who was listening to me rap about beating women ever since he was just a kid."
"And his parents let him listen to it?" Eminem continued. "What kind of house was that? I don't even want to think about what kind of people they are."
Eminem went on to say he was even further dismayed when Denham said he also grew up listening to artists such as Dr. Dre, Snoop Dogg, and Ludacris, and told reporters he could only imagine the sorts of relationship lessons he pulled out of music like "Bitches Ain't Shit" and "Move Bitch."
"At this point, I suppose it would be ideal for Hailie to date someone who never listened to any one of my songs, ever," said Eminem. "Why can't she find someone who listened to music that wasn't about having sex with prostitutes and then painting a room red with their blood?"
"Jesus," Eminem added, "I have to go find my daughter right now."