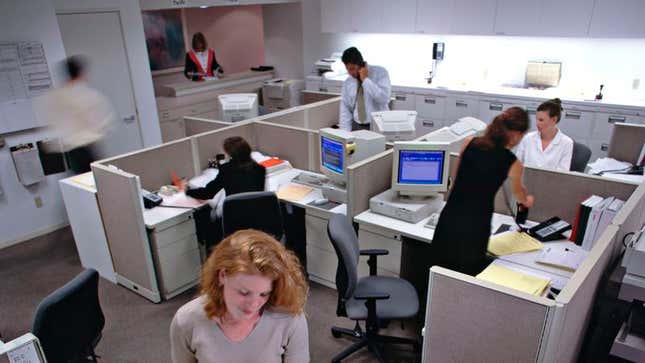 KANSAS CITY, MO—Unbeknownst to one another, every single member of the office staff at Kelleher Advertising Associates is planning to carry out a workplace shooting spree next Monday, reporters learned this week.
CDC Issues Dire Warning That Nick Cannon Is Feeling Horny
According to their independently formulated yet nearly identical plans, the company's 38 employees will arrive at the office early on Jan. 14, each carrying a duffel bag containing an assault rifle, handguns, and several hundred rounds of ammunition. At precisely 9 a.m., as indicated in each of their individual plots, every member of the advertising agency's staff will simultaneously produce their weapons and open fire on one another.
"No one is going to walk out of the office alive on Monday," 30-year-old copywriter Benjamin Cowan told reporters privately, completely unaware that every person he works with on a daily basis was equally prepared to carve a similar path of carnage through the office at the exact same date and time. "The first thing I'm going to do is shoot Adriana in accounting, then pump a few dozen rounds right into the sales department and [CEO] Doug [Kelleher]. They're never going to see this coming."
Cowan promised to unleash a "river of blood," unknowingly echoing the words of all 37 of his colleagues.
"I'm going to shoot Ben Cowan first," 42-year-old accountant Adriana Simons said. "Then I'm going to mow down Mr. Kelleher and the whole sales staff."
"I can already see the expression of shock on everyone's faces when they see me firing on them," Simons added. "No one's going to expect this."
In 38 separate interviews given to reporters, the company's employees all said they intend to stay at work late on the preceding Friday evening so they can barricade the floor's emergency exits ahead of their respective killing sprees. In addition, having independently noted that the building's custodian does not work Mondays, each staff member has reportedly devised a strategy to stow a bag of weaponry and body armor inside the same janitorial closet for retrieval at precisely 9 a.m.
Every person on the company payroll reported his or her plan was "flawless," "foolproof," and "can't miss."
"I don't work on Mondays, so it's going to catch everyone by surprise when I come in that morning and start shooting," said custodian Karl White, 51. "I'll seal off all the exits over the weekend and hide my AR-15 in my closet. That way, when I get there at 9 on Monday, I can just grab it and lay waste to everyone, especially Mr. Kelleher."
"I'm going to burst right into his office and blow his brains out—I've been waiting to do that for a long time," added White, repeating verbatim the exact plans of associate Kyle Morgan, layout designer Janet Hargraves, human resources coordinator Valorie Fry, IT manager Dwayne Bentley, executive assistant James Yarbrough, assistant to the vice president Alan Gregory, vice president Diane Vervain, the entire sales department, senior partners Danielle Kwan and Dean Osgood, the company's two interns, and the 19 other individuals employed by the firm.
Additional sources confirmed that at least a dozen former employees who have been laid off or fired by Kelleher Associates within the past five years are also planning to arrive at the office on Jan. 14 to carry out their own shooting sprees.
"Everyone will be totally unprepared when I burst out of my office Monday morning and start firing right into the sales department," said chief executive Doug Kelleher, who has repeatedly envisioned shooting dead every person he passes in the hallway, and who, in turn, has time and again been gunned down in the minds of those very same people. "And after I take everyone out, there will be nothing left but the ultimate release of putting the gun to my own temple."
"I've been waiting to do that for a long time," Kelleher added.
All who share the Kelleher Associates office confirmed they had begun making their final preparations for their mass shootings, placing extra assault rifle clips they might need in their desk drawers, above the drop ceilings of their cubicles, or taped under the office kitchen sink, while at least five separate individuals said they had placed clips in the base of the large planter in the office's entryway.
"There's no turning back now," every last person employed at the company told reporters separately. "On Monday, I will finally wreak vengeance on everyone who has stood in my way."
"I'll show them all," all added.
At press time, the company's employees were all seated at their workstations, simultaneously typing up manifestos they planned to leave for law enforcement to discover following their respective massacres.