DAYTON, OH—Every single person, historical figure, and anthropomorphic talking object inhabitting Brian Jensen's dream Friday night was suddenly struck by the unusually strong smell of smoke, subconscious sources reported.
Jensen, a 32-year-old cable installation technician who had fallen asleep several hours earlier, was reportedly in the middle of a conversation with his former high school biology teacher, Mr. Campbell, at the time of the unexpected disturbance.
"Now Brian, I would love nothing more than to help you mend your relationship with your mother, but I'm afraid…wait, is that smoke?" said the dream version of Campbell, who then he set down his briefcase, took an eggplant out of his jacket pocket, and sniffed at the air suspiciously. "Something's definitely burning around here."
Over the next several minutes, Jensen reportedly wandered through the shifting dreamscape, meeting distant cousins, beloved family pets, and automotive pioneer Henry Ford, all of whom appeared visibly concerned with the increasing heat and acridity.
According to dreams sources, the sleeping 32-year-old soon found himself aboard an empty passenger train, where a coughing and gasping German customs officer asked him for his travel documents.
G/O Media may get a commission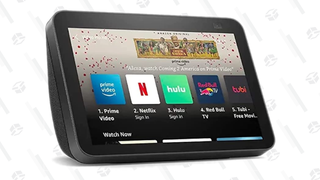 Several times, the man wondered aloud in his thick accent "where all this smoke was coming from," and while stamping Jensen's passport, he twice stopped to rub his stinging red eyes.
"Not since the war have I seen smoke like this," said the German, who sources claimed then slowly melted away to reveal Jensen's former Pizza Hut coworker Craig Weiss. "Dude, it's so fucking hot in here. I'm sweating my balls off."
"Jesus Christ, Brian," the fast-food employee continued. "Did you let another pizza burn or something?"
This incident aboard the train was followed by a succession of other puzzling events, including the sudden appearance of a dozen exploding thermometers, the arrival of a cigarette-smoking bedside lamp, and what sounded like the muffled echoes of banging and screaming coming from behind a small wooden door.
It was also at this point that a frantic gas stove, running around in circles and crying desperately for someone to put it out, was first seen.
"I can't breathe, I can't breathe," shouted folk hero Davy Crockett. "We need to get rid of some of this smoke."
A motion to immediately open a window to let in some fresh air was approved by a majority of those voting in the dream, among them a group of injured boy scouts, sports commentator Marv Albert, Smokey the Bear, and a locked bedroom window. A doctor who had taken Jensen's tonsils out when he was 12 opposed the decision, however, calling instead for immediate evacuation.
Although it's not clear how Jensen wound up in the kitchen of his late uncle Gary's home, dream sources revealed that a cheerleader from Jensen's middle school approached him at that time. Dressed in a short pleated skirt, the cheerleader reportedly leaned in close, parted her perfect red lips, and then blasted the 32-year-old in the face with a blaring fire-truck siren.
"Brian, you're burning up," the slender, giggling teenage girl said. "You're burning up!"
Jensen's romantic efforts were further interrupted when an old woman carrying a tray of candles entered the kitchen and urged him to "please wake up" so he wouldn't be late for work. Moments later, a flaming roof beam screamed at Jensen to get out of its way as it fell and crashed to the ground.
"What are you still doing here—-they're all looking for you," shouted the roof beam, flanked by several other beams all tumbling to the floor. "Nobody can find you!"
At press time, there was an intense smell of rising smoke and slow-roasting pork.