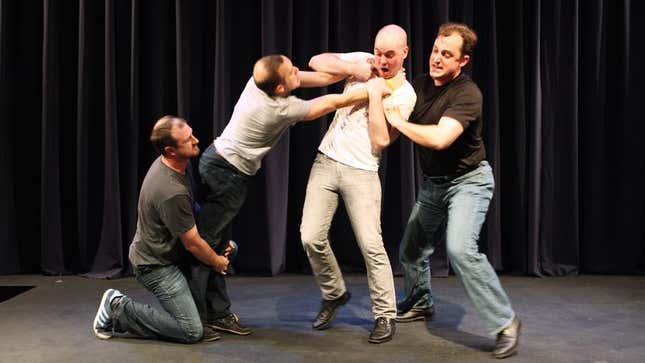 NEW YORK—Every member of local improvisational troupe "Calhoun" is balding, audience members observed Tuesday during the group's 8 p.m. performance.
CDC Issues Dire Warning That Nick Cannon Is Feeling Horny
According to sources, the group—which spent the majority of its 35-minute set playing various silly characters, doing outrageous voices, and pretending to be animals or members of the opposite sex—consists solely of adult males in their mid-to-late 30s who are either completely bald or have severely receded hairlines.
"Great fucking set," out-of-breath Calhoun member Daryl Crane said after the performance, sweat collecting in rills on his thin-haired scalp. "Everyone was on fucking fire. Adam, that move you made, when you called back to the prison scene—where the hell did that come from? Fucking genius."
"I was, like, I'll just follow Adam and see where this thing goes," added Crane, his slightly undersized American Apparel T-shirt tightly hugging his sweaty, protruding stomach.
Calhoun, which features balding members Crane, 37, Sam Rosen, 36, Nick Clewson, 34, and Michael Fray, 33, met at a local improvisational comedy theater in 2004. Each member completed five training courses and took several classes together, during which, according to the follicly challenged men, they bonded because other members in the class "didn't really get [their] weird sense of humor."
Along with losing a substantial amount of hair over the past eight years, group members have also never received any type of compensation for their performances, and have in fact lost upwards of $5,000 traveling to various improvisational festivals.
In addition, not a single member of the troupe, all of whom graduated from college more than a decade ago, has ever held a job paying more than $45,000 a year.
"We met and it just clicked because we shared the same comedic sensibilities," said Clewson, whose hairline, while robust by the group's standards, begins approximately 7 inches above his eyes. "When people ask me to characterize our voice, I say it's like an equal mix of really silly and really smart. Like that scene we did where Abraham Lincoln is a freshman in college—why the fuck was Anne Frank there? That's such a classic Calhoun scene."
Throughout their time in the group, members of Calhoun—most of whom also smoke cigarettes, spend a majority of their time hanging around a theater with other balding performers, and take advantage of much younger female newcomers to the improv community—have prioritized rehearsals and performances over responsibilities to family, friends, and work.
Clewson quit his full-time job last summer and took on a temporary catering position to devote more time to improv. Rosen didn't go home to his family in Minnesota last Christmas because the group was asked to open for a weekend mainstage show, after which Clewson cornered a manager from a talent agency and got his business card.
At press time, the manager has not replied to Clewson's e-mails.
"We've been getting our names out there, for sure," said the almost 40-year-old Crane, referring to several recent performances attended by small groups of their friends. "We've been making steady inroads in the city, and trying to do more traveling. Last year we went to Montreal for Just for Laughs. We didn't have a slot, but we did a lot of great networking."
"We're doing awesome," the visibly out-of-shape and haggard-looking Crane added. "But we can't get complacent. We're going to take a refresher class with [balding improv teacher Eric] Corpin next month. That guy's a genius. He was a consultant on that Kelsey Grammer sketch show."
While the group has written half a dozen television spec scripts and created several web video shorts, members insist that improvisation will remain the basis of everything they do. In fact, the group is thinking about writing a sketch show cobbled together from some of their most successful improv scenes.
Fray and Rosen, both of whom have wives and children to support, believe 2013 will be Calhoun's year.
"We are close to something big," said Fray, who three years ago decided that if he didn't start making money from performing within the next year he would quit improv altogether. "I can feel it."