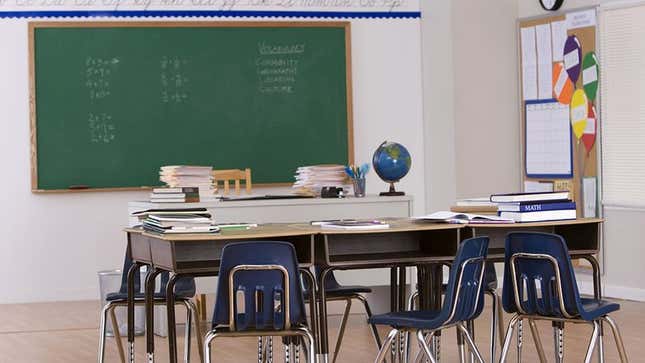 CHICAGO—Even now, more than 20 years after the humiliating childhood incident took place, everyone still gleefully recalls the time you got sick and projectile-vomited right in the middle of your fifth-grade class, sources reported Tuesday.
This Week's Most Viral News: September 29, 2023
While you believed it to be a small, inconsequential event, all but forgotten about by those involved, sources confirmed that everybody still vividly remembers every single detail about that embarrassing day, from the frozen look of horror on your pale face, to the pungent stench of semi-digested tuna wafting through the halls.
"Oh, yeah, definitely. The kid who barfed all over his desk," said a former fifth-grade classmate of yours, who can still instantly recall the disgusting guttural sound you made moments before becoming ill. "Of course I remember."
"Pukerman," he added, referring to an old pejorative nickname you thought had long ago faded from everyone's memory. "We used to call him Pukerman."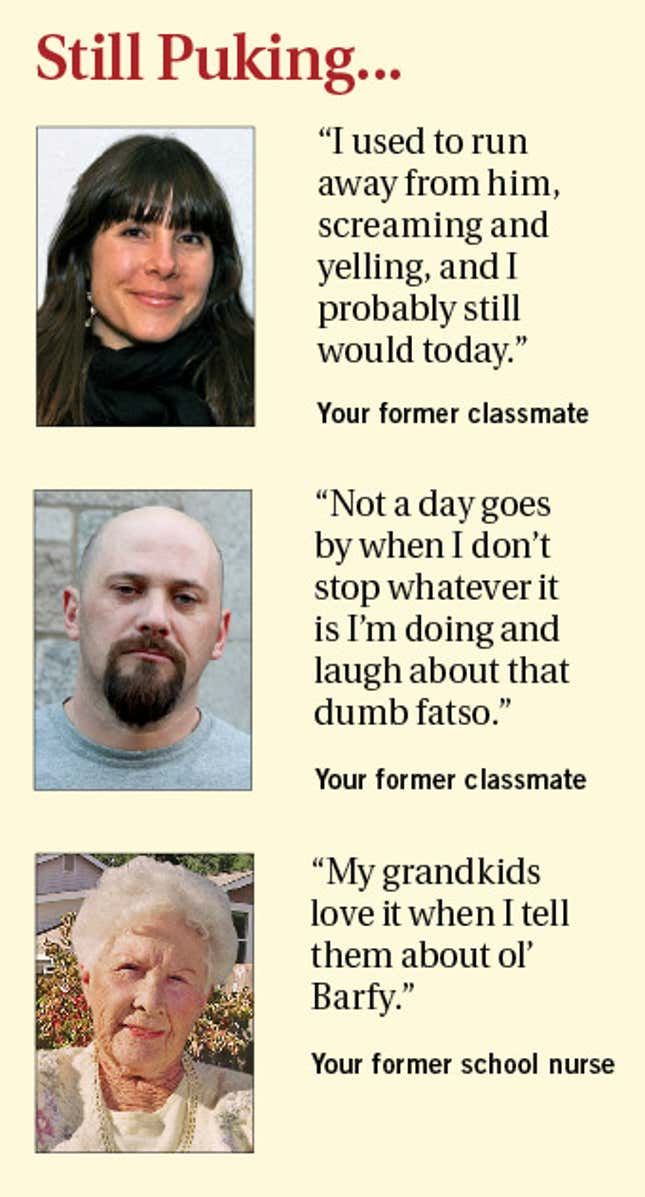 Despite having grown into a mature and responsible adult with a rewarding job and fulfilling home life, you will reportedly always be remembered as the chubby little kid who stood up from his seat midway through social studies class, muttered something about not feeling so good, and then suddenly puked all over himself.
According to sources, every image—from your failed attempt to run to the bathroom in time, to your teacher's frantic cries for more paper towels, to the way some of the vomit splattered onto neighboring desks and chairs, sending the entire classroom into a mass panic—remains as clear in the minds of people today as it did more than two decades ago.
In fact, some classmates, including that girl you used to have a crush on when you were 10, will very likely never forget the sight of you crying and babbling incoherently while your teacher attempted to clean off your face with the sleeve of your shirt.
"It went everywhere," said another former classmate of yours, who you had always just assumed had stopped talking about the embarrassing incident ages ago, but who instead continues to bring up the now 23-year-old story, laughing just as loudly and just as cruelly as he did back then. "And it was purple. Really dark purple."
Added the man who will never see you as anything other than a walking punch line, "You could tell he had had grape soda for lunch."
The time you threw up in fifth grade, including how you tried to stop the cascade of vomit with your hands, causing the contents of your stomach to suddenly spray in multiple directions, remains an indelible memory for more than just your classmates.
Even your seemingly kind and empathetic school nurse still talks about how strongly you smelled of vomit when you walked into her office, and how she had to hold her breath to keep "from passing out."
"We used to laugh about him all the time," said the now 74-year-old woman, who despite momentary lapses into senility and dementia clearly recalls how gross the whole thing was. "The janitor used to sigh loudly and pretend to grab his mop every time that fat little kid walked by. It was like this little joke between the two of us. We had a bunch of really mean jokes about that pukey kid."
Unbeknownst to you, the time you threw up during fifth grade has also played an important role in the lives of others over the years. Two former classmates of yours, who are now a happily married couple, first hit it off about six years ago after spending an evening laughing and laughing about how the vomit even somehow managed to get in your hair.
In addition, another witness that day, a longtime depression sufferer, opted not to take his own life late one night after fondly recalling how you had to wear clothes from the lost and found while waiting for your parents to pick you up.
According to sources, an estimated 372 people are chuckling, even as you read this, about the time you projectile-vomited during class.
"Puke, puke, barf, barf, puke," you might as well have said in response to the shocking news, as that's the only thing that defines you as a human being, and would be all anyone would be thinking about as you talked anyway. "Barf, retch, puke, retch, barf."