FULLERTON, CA—A worldwide consortium of scientists, mathematicians, and philosophers is nearing the completion of the ambitious, decade-long project of cataloging everything that can go wrong, project leader Dr. Thomas R. Kress announced at a press conference Tuesday.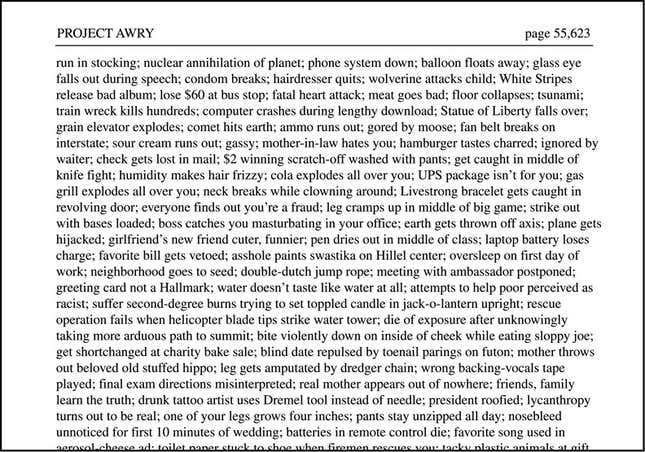 This Week's Most Viral News: June 9, 2023
"We are mere weeks from finishing one of the most thorough and provocative scientific surveys of our time," Kress said. "The catalog of every possible unfortunate scenario will complete the work of the ancient Phoenicians and the early Christian theologians. Soon, every hazardous possibility will be known to man."
"And listed," Kress added.
Kress, a professor emeritus of mathematics and statistics at California State University and the author of several works on probability, would not say how many scenarios of error, peril, and misfortune exist. However, the list is widely believed to include hundreds of trillions of potential scenarios, from "cement truck with soft brakes cutting swath of destruction across quiet suburban subdivision" to "snagging shirt cuff on door latch."
"You know that thing when you don't invite an annoying friend to your party, and then, on the night of the party, an acquaintance from work brings that friend as a date?" said Project Awry researcher Hideko Manabe of Kyoto University. "That's on the list."
Manabe added: "I believe it's right after 'neglecting the maintenance of reactor cooling system, leading to core meltdown.'"
The November 2003 issue of Scientific American included an excerpt from the inventory, which read in part, "Knocking a cup of coffee off a counter with a light jerk of the wrist; breaking a tooth while comically pretending to bite down on the Great Pyramid of Giza; lowering lifeboats into the water when they are only filled to half capacity; tripping on cable and falling to floor with broken ankle while angrily storming off set of 24; building shanty on hillside instead of floodplain in anticipation of monsoon season, then getting buried in erosion-triggered mudslide anyway."
So numerous are the conceivable disastrous scenarios that processing them requires two gymnasium-sized supercomputers, one at the University of Pittsburgh and the other at Moscow State University. According to Kress, the supercomputers process and cross-reference all of these potential "wrongs" 24 hours a day, at a rate of 6 trillion calculations per second.
During a recent tour of the facilities at the University of Pittsburgh, the scenarios were projected onto a large screen as they were processed.
"Accidentally breaking off hand of Infant Of Prague statuette while gently trying to clean it with cotton swab and soapy water," the projection screen read. "Briefs get wedged in area between bureau drawers and base unit, making it difficult to dislodge them; sleeping with neck twisted awkwardly, resulting in headache; absent-mindedly discarding bus ticket with tissue; placing fingers too close to prongs while plugging in night-light, resulting in mild electrical shock."
Once the list is completed, the long task of codifying and categorizing everything that can go wrong will be undertaken. While some have questioned the list's utility, Popular Science writer Brian Dyce said it could have widespread applications.
"Within a decade, laypeople might be able to log onto the Internet or go to their public library and consult volumes listing the myriad things that could go wrong," Dyce said. "It could prove a very valuable research tool or preventative stopgap. For example, if you're shopping for a car, you can prepare yourself by boning up on the 98,627 bad things that could happen during the purchasing process. This project could have deep repercussions on the way people make decisions, and also the amount of time they spend locked in their bedrooms."