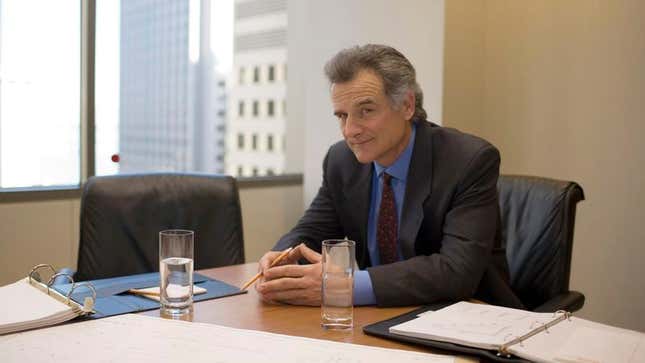 NEW YORK—Saying he likes to think of himself as "more than just a stuffy businessman in a suit," Wyatt Media Group CEO Barney Washburn, 57, informed reporters today that he is actually quite creative, too.
This Week's Most Viral News: September 22, 2023
According to Washburn, in addition to his numerous responsibilities managing the marketing company's sales strategies and overall organizational structure, he also happens to be someone who is equally capable of jumping into the more creative parts of the business, and is just as good as anyone else in the company at generating new ideas and thinking outside the box.
"Some of my employees probably think of me as just a guy who sits in a corner office and makes business deals, but I think many of them would be surprised to know I've actually had a good deal of creative experience in my career," said Washburn, adding that he has always prided himself on being able to understand "more than just the dollars and cents stuff." "Sure, I spend a good amount of my day tied up in all the number crunching, but believe me, I can brainstorm with the best of them. I've got a lot of great, clever ideas."
"The fact is, you don't get to where I am without being at least somewhat creatively inclined," Washburn continued. "It just doesn't happen."
While agreeing that there may be some executives out there who are unable to wrap their minds around the more right-brained aspects of a business, Washburn told reporters that he is different because his sensibilities are very refined and even edgy, and that he thinks of himself as "at heart, more of a writer and idea guy than a businessman."
"On the rare occasion that I'm not swamped with running the company, I'll pop into a brainstorming session the creative team's got going on and spitball with the rest of the guys," Washburn said, noting that he just happens to be the kind of guy that would feel equally comfortable in an art gallery or musical jam session as he does in a boardroom. "Every now and again, I'll even throw out a few suggested changes to their ideas before they present it to our clients. You know, just fixing problems where I see them. I think they're usually pretty surprised that I'm able to keep up with them, but I've just always been that way, you know?"
"Overall, I'd say it's a very collaborative process in the room," added Washburn. "We're always adding to each other's ideas to make sure we're putting out the best product possible."
The executive went on to say that even when he's sitting in his own office putting together a budget or analyzing competitor data, his "wheels are always spinning" as he thinks about different directions the company can move in creatively and how to accomplish their future goals.
In fact, Washburn stated that if he was a little bit younger and just getting started in the business today he would maybe consider exclusively going the creative route himself.
"Really, when you think about it, most of what a manager at my level does every day is fairly creatively challenging," Washburn explained to reporters at length. "Whether I'm dealing with a budget and trying to allocate a limited amount of resources or trying to recognize the current market trends that our company needs to capitalize on, it always takes a good amount of my imagination to discover opportunities for growth. Business is a type of art, after all. And I consider myself an artist, in that sense."
"In terms of our company, I would say my creative input is more big-picture stuff," Washburn continued. "I spend most of my time with clients, so I don't get a chance to see the teams actually put together the writing or visual elements. But I'd say at that point all the hard conceptualizing is already behind us."
Washburn also mentioned that whenever he's talking about the company outside of the office, he doesn't feel afraid to mention that he himself is very much involved in his company's creative process and will often offer suggestions to other business leaders on how to tap into their more innovative sides.
"People often ask me how our company comes up with such innovative and unique ideas for our clients," Washburn said. "And I always say the same thing: It's just about using your imagination and finding new ideas. It really is just that simple."
At press time, the executive was reportedly shooting off a litany of ideas to his creative staff for accomplishing their monthly goals while dealing with their drastically reduced 2013 budget.