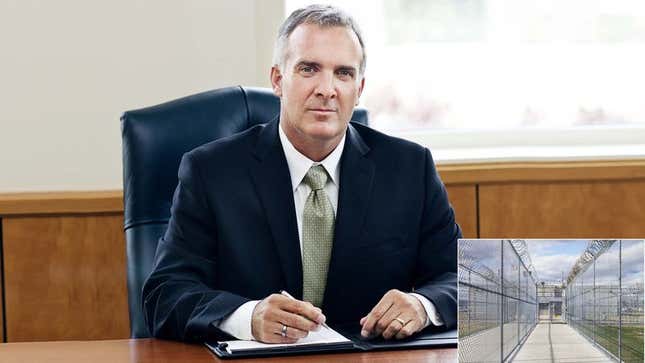 PHOENIX—Speaking to reporters Tuesday from his spacious corner office in the company's sleek downtown corporate headquarters, Harbor Corrections Group CEO Walter G. Parks reminisced fondly about the business's humble beginnings as a modest six-cell prison.
This Week's Most Viral News: September 22, 2023
Parks recalled how he founded HCG in 1986, back when "[he] was just a kid," in his words, with a single government contract and only a handful of convicts to his company's name, pausing often to share colorful asides about his business's early struggles. The executive then marveled at how his small, independent operation had since grown into a $3 billion detention-services firm with offerings that expand beyond criminal incarceration to encompass the confinement of juvenile offenders, the mentally ill, and migrants awaiting deportation.

"I'd say we've come a long way since those crazy early days," said Parks, chuckling at the thought of the multiple loans he took out to finance the initial 1,300-square-foot facility and the long hours he put in trying to get the company's name out to various states' departments of corrections. "When we opened for business, all we had was two or three part-time guards for the whole place—that's it. We didn't even have a watchtower at first, just a guy on the roof who sat in a folding chair with a rifle on his lap. Hard to believe, but that's how we got our start."

"If you'd told me back then—back when we had only one basketball hoop in the yard and barely enough money to keep the surveillance cameras on—that one day we'd have 80,000 beds at 60 facilities in 22 states, I'd have called you nuts," he continued.

According to Parks, it was "all hands on deck" the first few years, and for a time, he handled the intake of each prisoner personally, filling out all the necessary forms and overseeing the filing system, and even stepping in on occasion to act as the facility's cook to provide the inmates with their three square meals a day. In those days, he said, the cell HCG used for solitary confinement doubled as its office supply closet. Now, his employees work in more roomy environs, with the company's 40-person in-house lobbying division occupying an entire floor of a modern office complex.

Parks confirmed that for much of its first decade in business, the company might go weeks, or even months, without securing a no-bid contract to ship in prisoners from out of state. But in 1995, after a handful of well-placed campaign contributions and a concerted effort to help pass tough "three strikes" sentencing laws in state legislatures, HCG was reportedly able to break ground on its first of many full-size maximum-security prisons.

"There were times early on when I'd walk down the hall, pass only three or four inmates, and think, 'How are we going to make it to the end of the month?'" said Parks, recalling several periods in which the company "hemorrhaged money" due to low recidivism, the result of occasional public investment in criminal rehabilitation programs. "Compare that to now, though, when all of our prisons are filled to the gills and we're housing the overflow on bunks in the gymnasiums."

"And what's more, we're hiring them all out as manual labor at pennies on the dollar," he added. "Talk about a success story."

Parks confided that in the days before mandatory minimum sentences became widespread, the only thing that kept HCG in business was the occasional prison riot, which resulted in more time being added to inmates' sentences, helping to ensure more of the company's cells stayed occupied and bolstering its revenue.

Nowadays, he explained, his business is so successful that it can pick and choose whom it imprisons, turning away difficult criminals who are more costly to house.

"Sure, it was touch and go for a while," said Parks, admitting he used to second-guess whether it would ever be possible "to break even at this game." "But that just makes it all the sweeter now that we've come out the other side and can now call ourselves an industry leader."

"At this rate, we're going to have 40 additional facilities in the United States by 2025," he added. "And we've got plans for more on the way."