LOS ANGELES—Video editor Scott Lessner, after working all weekend to meet a deadline for the upcoming Spike TV special, Wait, Did I Just See That?!? World's Zaniest Bloopers And Other Outrageous $%#!! Caught On Tape, reported Monday that he had all but lost his "usually rock-solid" ability to judge the comic merits of various on-camera glitches, blunders, and practical jokes.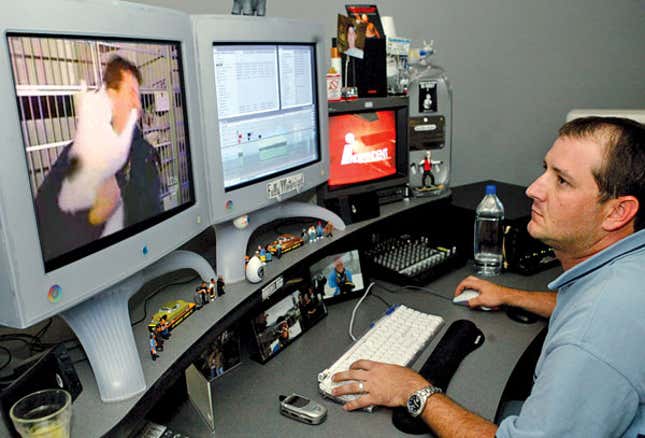 This Week's Most Viral News: September 22, 2023
"I'm a pro—I should be able to do this," said a visibly weary Lessner, 46, who in the past has proven his video-blooper editing chops on America's Funniest Home Videos and TV's Bloopers & Practical Jokes.
"Is the KCBS newscaster farting on-air funnier than the Taiwanese interviewer doing the same thing?" said Lessner, jogging back and forth between the footage on his computer. "The KCBS woman's fart has great timbre and texture, so that's a plus. But then the other one's got the funny foreign language and he's obviously deeply embarrassed. They're both money in the bank. I just can't think objectively."
Lessner, who said he started the weekend session laughing at the abundance of "blooper gold," soon lost all perspective when faced with the task of condensing the more than 86 hours of footage—most of which was "almost indistinguishably hilarious"—into a single 26-minute special by his strict Sunday deadline.
"I knew I was starting to lose my edge when that puppy peeing on the talk-show host failed to make me laugh," said the sleep-deprived Lessner. "That's network-caliber funny."
A tape of over 60 weather-segment gaffes caused the veteran editor particular consternation.
"How do you choose?" Lessner said. "You got the guy falling over in a hurricane, sure, but then you got the wacky rapping weatherman, or the reporter getting blasted by a snowblower, then there's the wrong bluescreen coming up behind the Oklahoma meteorologist—plus 50 some-odd others that are equally as good. Or at least seem to be. I can't even fucking see straight."
Lessner's traditionally dead-on sound-effect sensibilities also came into question when he struggled between the tweet-tweet and the classic "ah-ooo-gah" sound effects for a shot of a man hitting himself in the head with his own bowling ball.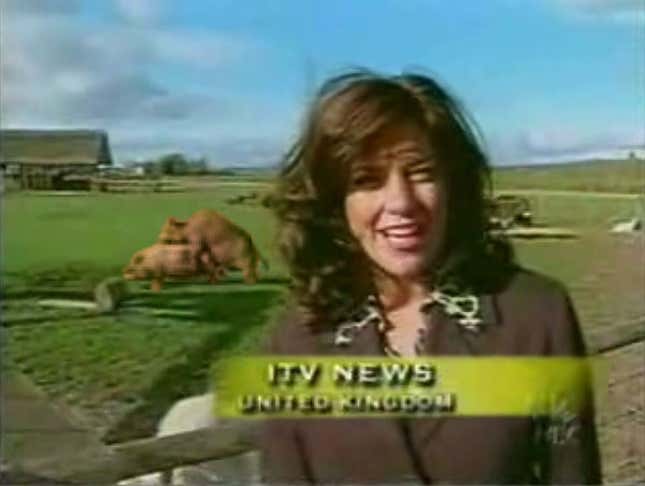 "I never noticed before, but if you play the 'boing' sound effect over and over, it starts to lose all meaning," Lessner said.
At approximately 3 a.m. Sunday morning, the increasingly stress-addled Lessner combined footage of a 1991 elephant attack on a young girl at a zoo in Tacoma, WA with the novelty hit "Baby Elephant Walk," but quickly discarded it when he realized that the gory footage was inappropriate for comedic purposes.
As the weekend drew to a close, Lessner's impending deadline began to try his usually cool demeanor.
"When somebody screws up on camera this bad, they should be fired," said Lessner, gesturing angrily at a botched local-news cooking segment. "I mean, my God, that entire table fell over. Why would you lean on it? You're supposed to be a professional. And what do they do? They laugh. Disgraceful."
By weekend's end, Lessner said that he had cobbled together a serviceable rough cut, but still had deep reservations about whether he had created the most inspired and well-paced blooper reel possible.
"This is the sort of thing you really need to walk away from for a while and come back to with fresh eyes," Lessner said. "But the blooper business is about getting the laughs out to the public in a hurry."
Lessner stopped suddenly and raised his hand to his head. "The shot of that woman's wedding dress falling down would have been the perfect place to use a slide whistle."