WASHINGTON, DC—In a move calculated to reduce significantly the number of catastrophic midair explosions aboard U.S. airliners, the FAA announced Monday that longer fuses will be required for all commercial air carriers beginning in 1997.
The move toward longer fuses began earlier this year when the older, shorter fuses on several commercial flights, including TWA's infamous Flight 800, burned all the way down to the fuselage and into the airplanes' detonators, causing them to explode in mid-air.
"This is a step in the right direction," U.S. Secretary of Transportation Federico Peña said. "No longer will passengers on long trips be sent into fits of panic as they watch their airplane's fuse sputtering inexorably shorter and shorter, sobbing hysterically in the fear that they may not reach the ground before being engulfed in a fireball thousands of feet in the air."
Peña added that to help make flights more enjoyable for passengers, the new fuses would not be visible to anyone but the flight crew.
Reaction to the new safety legislation has been largely positive. "I look forward to flying the new, longer-fused aircraft," Delta Airlines pilot Edwin Jenkins said. "Some of my colleagues will no doubt disagree, but a fuse of merely 20 or 25 feet is cutting it mighty close when you fly from Chicago-O'Hare to Tokyo International three times a week. It's probably a major reason one out of every three planes on that route explodes."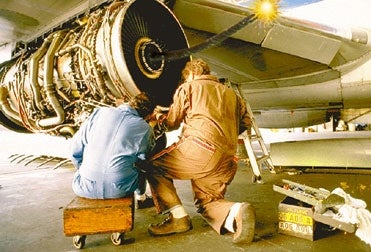 "Maybe if TWA Flight 800 had a longer fuse," said Erie, PA, resident Danielle Long, who lost a friend in that crash, "those people would be alive today."
TWA officials insist the doomed plane's fuse was 21 feet long, five feet longer than the FAA minimum.
Those who oppose the longer fuses claim it is just the latest in a series of moves by the FAA to take control out of human hands.
"I flew Mustang fighters in World War II," said Elroy Bruss, 78, a retired United Airlines pilot. "In those days, the fuses were eight inches long, and we used to cut 'em in half before we took off so they didn't get blown out by the wind. Now some of the 747s have fuses 20 times that long. Men aren't allowed to be men anymore."
Though there has been some argument over whether a modern airliner should be equipped with a fuse at all, Peña is hesitant to legislate such radical change. "When you look at a modern jumbo jet that has been serviced, fueled and readied for takeoff, it weighs three-quarters of a million pounds. Roughly two-thirds of that weight is highly explosive aviation fuel, making the aircraft basically an enormous flying bomb. To build a bomb that large without a fuse would be bad design."