ST. HELENA, CA—Promising cuisine made from the "freshest, most inhumanely treated ingredients," new factory-farm-to-table restaurant Cage announced this week that it is proud to serve the meat of locally tortured animals.
The restaurant, which boasts that it only uses meat raised and slaughtered in abhorrent conditions within a 100-mile radius of its premises, confirmed that it works exclusively with a network of corporately owned factory farms to ensure its suppliers adhere to the highest standards of cruelty.
"We offer a different kind of dining experience, one that preserves the link between the food on the table and the industrial plants that make each animal's short time on this earth a living hell," owner and head chef Mason Keflani said. "We want our customers to understand that the steak they're eating not only originated nearby, but came from a cow who suffered immensely from the moment it was born to the moment a conveyor belt moved it into place so that men with hooks and knives could tear it to pieces."
"That's our philosophy," he added.
Keflani told reporters he frequently visits the half-dozen local factory farms that supply his restaurant and hand-selects the mass-produced meat he will serve. Walking from overcrowded cage to overcrowded cage, he observes the stench-filled containers where the poultry he buys is kept in agonizing captivity and examines the feed of cattle to verify that it's a good mix of genetically modified corn and the reprocessed organs of other cows.
G/O Media may get a commission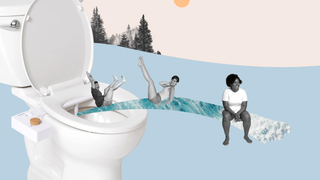 17% off
Tushy 3.0 Warm Water Spa Bidet Attachment
He also said he works closely with the farmers who personally torture the livestock, drawing on their expertise to ensure he purchases the meat of animals whose systematic maltreatment, lack of exercise, and generations of selective breeding have made them chronically debilitated and miserable.
"When sourcing pork, for example, I look for slaughterhouses where the pigs are crammed together so tightly they're forced to urinate and defecate on each other," said Keflani, remarking upon the layers of filth that must be hosed off with bleach before he takes delivery. "I make sure they've been injected with both muscle relaxants, to keep their tissue tender and supple, and with antibiotics, to fight the diseases that run rampant among animals living in such squalor."
"What makes our restaurant different is that we're actually on a first-name basis with the guys on the assembly line who electrocute the chickens and slash their throats," he added.
Describing themselves as proud members of the budding locavore movement, many customers at Cage told reporters they share Keflani's principles and only consume animals that have been abused and clumsily slaughtered in and around their community.
Denise Prevario, a 34-year-old mother of two, said the restaurant allows her to feel connected to the food chain by providing detailed information on the animals' excruciating daily routines, the toxic substances that befoul their drinking water, and the skin lesions that leave them in a state of perpetual discomfort. She noted that Cage even provides a pamphlet that tells the stories behind the multinational conglomerates that own the factory farms.
"It's nice to be aware of my meal's unimaginably tragic history," said Prevario, cutting into the moist leg of a chicken that reportedly began life in a poultry facility where terrified birds have to be painfully debeaked so they won't peck each other to death. "I personally feel like meat just tastes better when you know it came from a living creature that could barely walk and was subjected to extreme stress day and night."
She added, "The last thing I want to do is eat an animal that has been shipped in from someplace halfway across the country where, for all I know, it was treated with some sort of dignity."