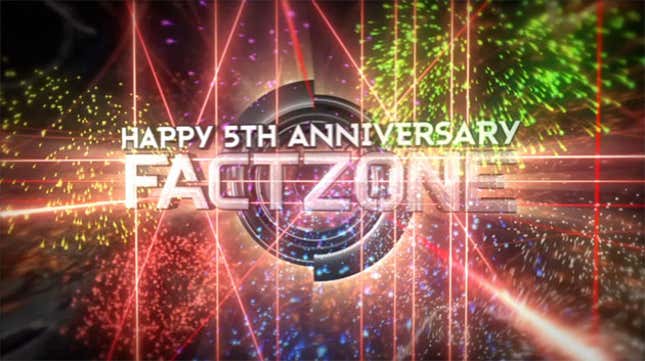 On the fifth anniversary of FactZone, we look back at our favorite interviews:
5. Jim Davis: In 2006, Garfield creator Jim Davis stopped by the FactZone studio to promote the movie Garfield: A Tale Of Two Kitties. Co-host Tucker Hope later described the experience of meeting Mr. Davis as "Like meeting Michelangelo, Shakespeare, and an angel combined into one being."
4. Vladimir Putin: In 2008 FactZone host Brooke Alvarez reduced the Russian leader to tears with her intense questioning. Putin later described looking into Alvarez's eyes as akin to staring across an endless expanse of barren, frozen Russian tundra.
3. Dr. Cornell West: The esteemed philosopher, author, and civil rights advocate stopped by FactZone in 2008. Dr. West was put into the zero-gravity "Floating Fact Chamber" where he answered viewers' Tweets about his opinion of Justin Bieber and his favorite animals.
2. Brooke Alvarez: Through the use of advanced holograph technology, Brooke Alvarez was able to interview a digital version of herself in late 2010. Never one to pull her punches, Alvarez grilled herself with tough questions about rumors that she had taken corporate bribes.
1. Elaine Coughlin: Brooke Alvarez's 2009 interview with distraught mother Elaine Coughlin, whose daughter Rachel was missing and feared kidnapped, marked the first time a FactZone guest ever vomited live on-air due to pure emotional turmoil. This segment is also notable for including the highest number of times of the word "rape" had ever been uttered by Brooke during a single interview: 48. That record has since been broken twice.