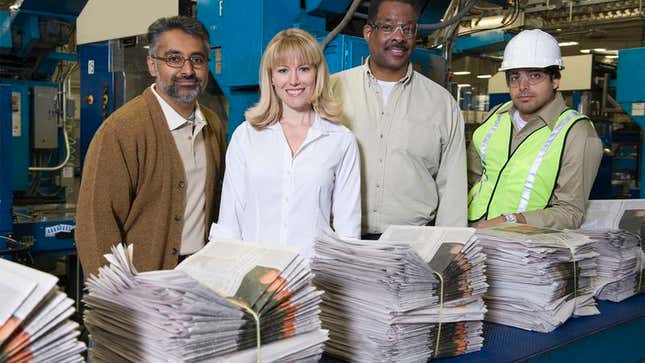 NEW YORK—The nation's top experts unanimously agreed Tuesday that the current struggles of the U.S. economy were no reason whatsoever to stop investing in print media, which they said was easily the safest and most profitable place to invest one's money.
This Week's Most Viral News: September 29, 2023
Without exception, leading authorities across all relevant disciplines said that while traditional low-risk instruments such as CDs, bonds, and gold were still relatively secure investments, only the nation's beloved print media outlets could offer both the reliability and the potential for tremendous financial gain required for guaranteed peace of mind.
"Print media is far and away your best bet in this tough fiscal climate," said the nation's foremost economists. "Just put your money in and forget about it for 10 years, 20 years, 50 years, doesn't matter. No economic downturn on earth can touch it."
"There's no question about it," continued all economic experts. "If you're a nervous investor—and you should be in this climate—you should be pouring all your cash into your local broadsheet right this second."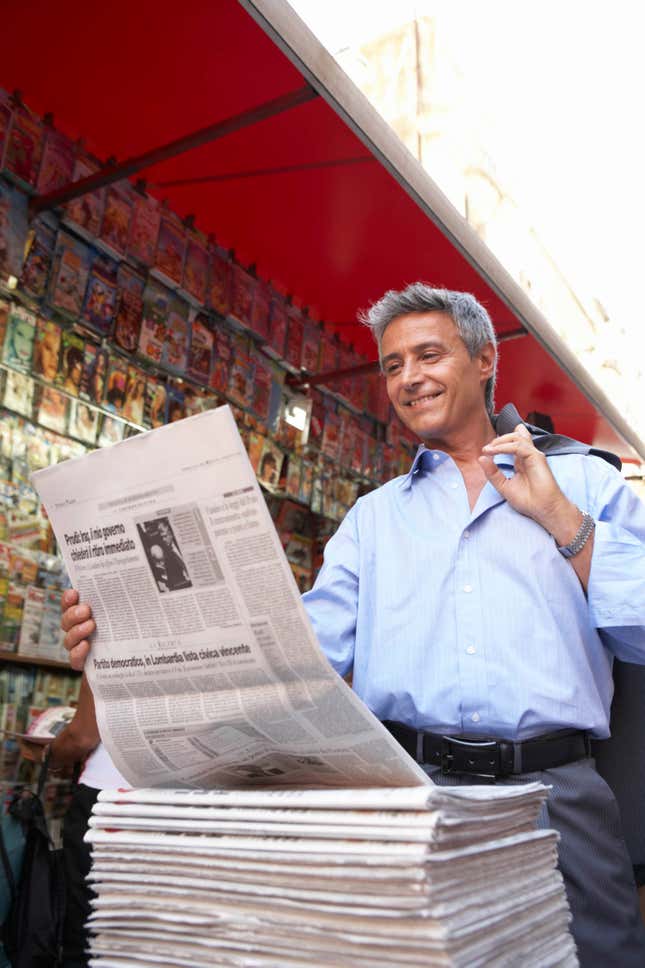 Experts went on to tell reporters that not only is there no safer place to invest than print media, there's also no sector of the economy with more promise for growth. Urging investors to diversify their stock portfolio among national and regional newspapers as well as dailies and weeklies, they said print media will be a "bonanza" for shareholders, even as the economy as a whole flounders.
"Print media is a cash cow that will multiply an investment over and over," said the experts. "Other products fail, real estate bubbles burst, but print media is here to stay. The only retirement strategy anyone needs is as close as their local newsstand."
"People who invest in print media are going to see their holdings grow by leaps and bounds, and they'll probably ask themselves, 'How can this be real?'" continued the experts, every single one of whom described print media as "the closest thing there is to a money tree." "Well, trust us, it's real. You can expect to make a lot of money very quickly, and best of all, you'll do it by supporting a pillar of American society."
In explaining print media's remarkable appeal, the entire financial community said citizens rely, and will continue to rely, on printed newspapers to keep them not only informed about current events, but better prepared to function as the kind of knowledgeable citizens a robust democracy requires. Others pointed toward people's deep emotional attachment to print media and the loyalty readers have for the treasured publications as a financial guarantee. In addition, investors from every major financial firm strongly noted that newspapers are an integral part of the ongoing American story that is written each morning, chapter by chapter, on black-and-white newsprint by decent, hardworking men and women who live in the very communities their newspapers serve.
Not investing hundreds of millions of dollars in newspapers right this very second, they added, would simply be foolish.
"No matter how tough times get, people will never turn their back on their newspapers," said every media expert in the nation, adding that newspapers would likewise never, never, never take their readers for granted, because it is readers that the print media industry depends on, and the nation's newspapers and magazines have always, without fail, worked tirelessly to provide readers with the highest-quality product possible. "They wouldn't desert their trusted print media outlets like that. Besides, everyone knows that new media technologies come and go, and that newspapers are an indispensable part of our national identity that must be protected by all of us, and chiefly by shrewd investors or even ordinary business owners who take out a very reasonably priced quarter-page ad. Or something smaller. You'd be surprised how much mileage you can get out of even a tiny little classified."
"The weekly newspapers are, of course, the most vital," the nation's media experts added. "We'd really be lost without those."