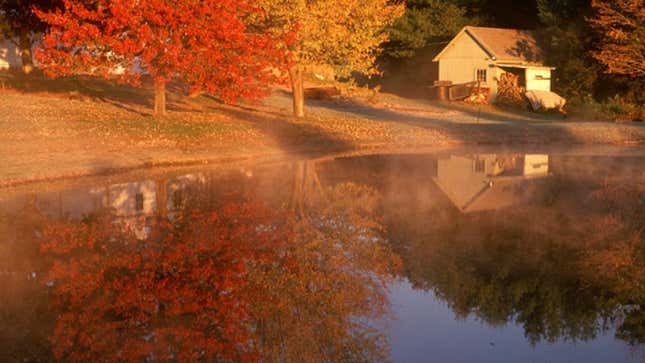 WASHINGTON, DC—Fall, the long- running series of shorter days and cooler nights, was canceled earlier this week after nearly 3 billion seasons on Earth, sources reported Tuesday.
Edgelords Explain Why They Love Elon Musk
The classic period of the year, which once occupied a coveted slot between summer and winter, will be replaced by new, stifling humidity levels, near- constant sunshine, and almost no precipitation for months.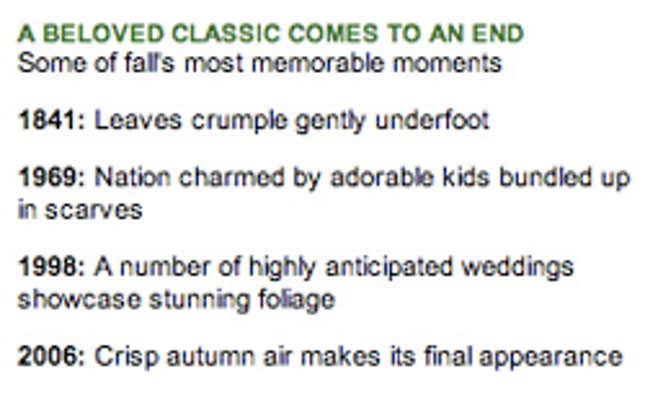 "As much as we'd like to see it stay, fall will not be returning for another season," National Weather Service president John Hayes announced during a muggy press conference Nov. 6. "Fall had a great run, but sadly, times have changed."
Said Hayes: "Frankly, we're amazed it lasted as long as it did."
Though it came as a surprise to many, the cancellation was not without its share of warning signs. In recent years, fall had been reduced from three months to a meager two-week stint, and its scheduled start time had been pushed back later and later each year. Still, many Americans continued to hold out hope that it would make a last-minute comeback.
"I guess I should have seen it coming, but it's still upsetting to think about fall being gone forever," said Peterborough, NH resident Dale Simmons, who was informed of the cancellation yesterday while waterskiing with his family.  "Maybe other people won't miss it as much, but I practically grew up watching the leaves change color."
"Now what am I supposed to do with myself between August and December?" Simmons asked. "Wear shorts?"
Though disappointed by the cancellation, a number of Americans have admitted that the last few seasons of fall were "completely underwhelming" and often lacked the trademark mood and temperatures of earlier years.
"In my opinion, fall stopped really being fall after 2004," Margaret Davies of Augusta, ME said. "Once the birds quit migrating south and the need for air-conditioning extended into late October, it just wasn't the same anymore. To tell you the truth, I was shocked to hear that fall was even still around." 
Fall's recent slide isn't uncommon, however, with spring and winter also suffering from quality issues. According to recent NWS data, winter has not had a consistent showing in almost four years, while last year spring was cut down to just five days to make room for an extended run of summer that began in March.
"With the way things have been going lately, it only makes sense that fall would be canceled," said Eric Fausbaum, an observer at an independent weather-watch agency, as he wiped beads of sweat from his brow. "But then I still remember when December meant having to put on a sweater to go outside."
Though thousands have signed Internet petitions to save fall, and protests have been scheduled throughout the week, many are skeptical that they will ever see the temperate season again. In addition, the National Weather Service said that even if fall were to return at a later date—perhaps for a brief guest appearance next spring—citizens shouldn't be too optimistic.
"I know people are upset to see fall go, but let's try to keep things in perspective," Hayes said. "After all, it's not like it's the end of the world or anything."
Regardless of whether it ever returns, Americans said they would always have fond memories of the once-ubiquitous season.
"The crunch of fallen leaves underneath your feet, the smell of ripening fruit hanging heavy on nearby trees, the crisp and cool evening air—I'll never forget it," Minnesota resident Jessica Bellauc said. "That was fall, right?"