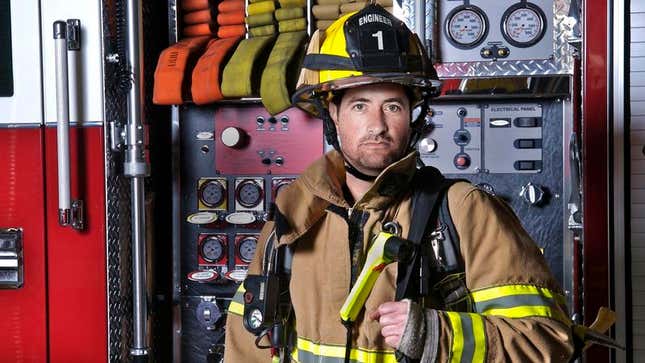 LENEXA, KS—Hundreds gathered for a somber memorial service Thursday in honor of Stuart D'Abarno, 31, a firefighter killed in a residential blaze whom colleagues remember as an incompetent waste of space who couldn't fight fire for shit.
CDC Issues Dire Warning That Nick Cannon Is Feeling Horny
According to the Lenexa Fire Department, D'Abarno responded to a routine one-alarm house fire on Chestnut St. at approximately 1 a.m. Sunday night, suffered third-degree burns, and died of smoke inhalation after running into an inflamed second-floor bathroom in his trademark idiotic fashion, forgetting his required turnout gear and hose line, as per usual.
Sources confirmed that D'Abarno, who leaves behind a widow, Julissa, 28, and two small girls, died needlessly and moronically.
"Today we mourn the loss of a loving family man, a committed firefighter, and the most incompetent halfwit you could ever meet," said Department Chief Bruce Morelis, fondly recalling his fallen colleague who devoted eight useless years to the department, which he reportedly imperiled on a daily basis by simply showing up to work. "Frankly, I'm still in a state of shock that such a good friend is gone and didn't die sooner."
"Stu's fellow firefighters will always remember him as a considerate and generous moron who nearly died during our training drills, for God's sake," added Morelis. "It's truly a tragedy, though hardly a surprise, that the wonderful dope is no longer with us."
The fire chief announced that all flags in the community would be flown at half-mast for two weeks after the memorial service, celebrating the inept dolt known for attempting to ride in elevators to quickly reach higher floors of burning buildings.
Leading the mourners through highlights of the fallen firefighter's career, Morelis wistfully reminisced about the unforgettable times when D'Abarno badly burned his hands on hot door knobs, knocked over ladders while carelessly backing up the truck, and was frequently rescued from grease fires he started in the firehouse kitchen.
"When I think of Stuart D'Abarno, I think of a man absolutely devoted to fighting fires incorrectly," said division leader Fred Kessler, 38, who wiped away tears while speaking about the fallen fighter's asinine mistakes. "Stu was always the first one to run into a burning building and run out on fire 15 seconds later."
D'Abarno's grieving widow, who told reporters she was touched by the outpouring of support, was reportedly overwhelmed with emotion while listening to firefighters share stories about her husband's myriad fuckups.
"Stuart may no longer be here, but he will live on forever in our hearts as a loving husband, dedicated father, and an absolutely terrible firefighter who was not very good at what he did," said Julissa D'Abarno. "He won't be forgotten anytime soon. I just know that not a day will go by that I don't think about my husband, the bungling, frankly humiliating dummy who risked the lives of everyone he worked with."
The fire department also unveiled a commemorative plaque honoring D'Abarno, who was reportedly responsible for over $12 million in damage to public property, injuries to numerous firefighters, and the deaths of two citizens.
At press time, sources confirm that D'Abarno had addressed his last five life insurance payments incorrectly, inadvertently allowing his policy to lapse, failing to provide for the needs of his family.