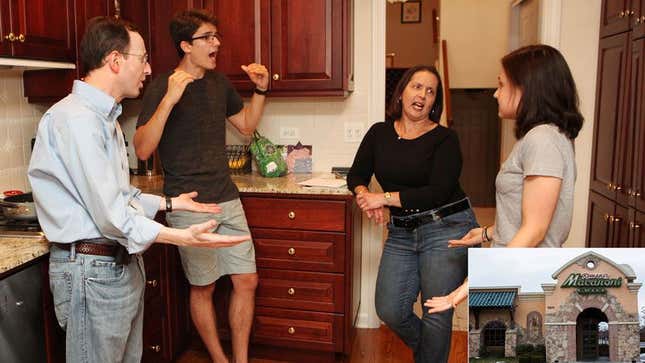 WHEATON, IL—Following 45 minutes of intense arguing and bitter protests, a heated screaming match between members of the Carroll family came to an end Thursday evening with a consensus to eat dinner at Macaroni Grill, household sources reported.
This Week's Most Viral News: September 29, 2023
The emotionally charged dispute among the family of four, in which parents and children alike alternately shouted insults across the kitchen and sharply criticized each other's character and food preferences, reportedly concluded when all parties eventually agreed that Macaroni Grill, an Italian-inspired chain eatery, was an acceptable choice for their weekly family restaurant night.
"We always go where you want!" Kristin Carroll, 14, reportedly screamed at her father, John Carroll, touching off the intense, nearly hour-long clash over which mid-priced casual dining establishment the family should patronize. "Well, maybe I don't want to go where you want to go. Did you ever think of that?"
"You're not the center of the universe!" she added, reportedly standing up from her chair, leaving the room, and slamming her bedroom door behind her before continuing her impassioned argument through the closed doorway. "Other people have opinions too!"
The quarrel is said to have escalated within minutes, as family members could be heard yelling the phrases "I'm fucking sick of this," "Cheesecake Factory is off the table," "I hate pasta," and "Don't put words in my mouth" throughout the suburban residence. According to accounts, the protracted period of fierce squabbling included numerous threats to leave the house, repeated usages of the word "unfair," several personal accusations entirely unrelated to the argument at hand, and suggestions for alternate dinner plans—including Chili's and California Pizza Kitchen—that were swiftly and angrily rejected.
Approximately 20 minutes into the shouting match, sources reported that a visibly irritated John Carroll brought his 16-year-old son Aiden out of the kitchen and into the downstairs hallway in an effort to reason with him and request that he "act like an adult."
"What's the problem here? You like Macaroni Grill," John Carroll reportedly said, attempting to suppress the anger in his voice and speak in a measured tone. "We've been there dozens of times and now you don't want to go? Come on. It's good food—everybody likes it there."
"They have chicken parmesan," he continued sternly. "You like chicken. Order that."
Sources confirmed that the family argument intensified when the adolescent returned to the kitchen and asserted that his mother had chosen the restaurant the last three times they dined out, prompting his sister to issue the harsh reprimand "Shut up, you're making things worse" under her breath.
When daughter Kristin Carroll reportedly complained several minutes later that "Mom can just make spaghetti at home" and that the family "should go to a good restaurant for a change," her father is said to have cut short her outburst by warning her to "cool it with the attitude" and informing her that "[she] can pick Outback goddamn Steakhouse next time, all right?"
The tension is said to have reached a fever pitch shortly before 7:30 when each of the family members attempted to loudly speak over each other, shortly after which mother Cynthia Carroll reportedly began sobbing quietly on the living room couch. Sources reported that the room then fell silent for several moments, before John Carroll suggested heading out to the restaurant "if everyone can behave themselves," a comment that is said to have elicited a dramatic, drawn-out sigh and angry glares from his children.
"This is how it's going to be: In 15 minutes, we're going to Macaroni Grill. We're going to Macaroni Grill and we're going to have a good time," John Carroll reportedly said while jutting his right index finger into the tabletop. "All of us are going to get in the car. Then we're going to buckle our seat belts. Then we're going to sit quietly and shut our mouths while we drive to the restaurant. End of story."
"When we get there we're going to have fun," Carroll added. "Any questions? Good."
At press time, sources confirmed that after two minutes of complete silence in the car, Cynthia Carroll noted aloud that the restaurant should be relatively uncrowded at this time of night and that the family shouldn't have trouble finding a table right away.