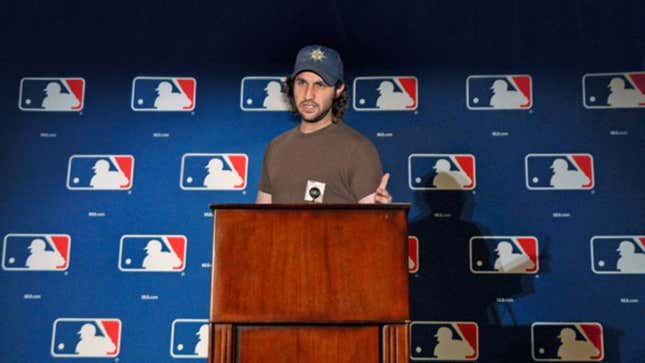 BROOKLYN, NY—Mark Mendicus, 26-year-old Staples employee and principal owner of the fantasy baseball team Beat With Uggla Stick, blasted his underperforming team in the media Monday, going so far as to single out individual players, criticize their recent play, and question their commitment to winning.
This Week's Most Viral News: September 22, 2023
"They all suck," a visibly frustrated Mendicus told reporters following Beat With Uggla Stick's head-to-head 8-2 loss to division rivals The Mark Currys. "[Alex] Rios sucks, Delmon [Young] sucks, Pedro [Martinez] fucking sucks. Everybody on my team sucks."
"The Beat With Uggla Sticks have a proud tradition of winning," continued Mendicus, whose team has made the playoffs the past two years, including a league championship win in 2006. "But apparently that means nothing to this group of players. Apparently they'd rather just lose every single 5x5 category. Apparently my players don't care about winning the 12-team Yahoo! Plus 'Mmm…Fantasy Baseball' league pennant as much as I do."
Mendicus had high expectations for his team coming into the season, but his players have been plagued by injuries and inconsistency, losing six of their first eight matchups en route to a 22-46-14 overall record. The historically temperamental owner did not hold back his opinions after their latest humiliating defeat, telling the New York Post that Prince Fielder "had better start hitting some fucking home runs already" before making several vicious personal attacks on the first baseman, calling him a "fatass," a "fat bastard," and a "fat fuck" in the course of one statement.
"I paid $38 for [Fielder], and this is what I get?" Mendicus said, directing reporters' attention to Fielder's "putrid" Yahoo! Game Log. "Twelve home runs. Twelve goddamn home runs. When you pay $38 for a guy, you had better give them a hell of a lot more than 12 home runs through the first half. I got you for your power, buddy, not your walks. This is a batting average league, anyway, not an on-base percentage league, so walks don't fucking matter. It's like these guys don't understand that."
Mendicus continued his heated rant, calling shortstop Felipe Lopez a "talentless hack whose multiple position eligibility is the only thing saving his ass from waivers," claiming that pitcher Ian Snell is "killing [him] in WHIP, absolutely killing [him]," and encouraging outfielder Brad Hawpe to "go eat shit." He then accused the whole team of not stealing enough bases and "not playing like true Beat With Uggla Sticks."
He did, however, reserve some praise for hot-hitting second baseman Dan Uggla upon learning that Uggla homered twice that day, saying, "That's you, Danny."
With his team already down 9-1 in this week's matchup against Gary Sheffield's Head Vein, Mendicus issued an ultimatum, claiming that unless his team delivers at least a tie, there will "be some changes around here." Mendicus said that "no one is safe," and had particularly strong words for pitcher Chris Young, who three weeks ago was hit in the face with a line drive and has not made a single start since.
"Toughen up, you little baby," Mendicus said. "You don't throw with your face, do you? I already got Phil [Hughes] in the DL slot, so you better get your ass back in action."
Mendicus has a reputation for following his players' performance with intense scrutiny and personal investment, often to a fanatical degree. It is rumored that he monitors their progress on multiple Yahoo! Sports box score windows on his computer screen, and will erupt into obscenity-laden tirades at work after a mere groundout or caught stealing.
"Fuck you Edwin, you good-for-nothing piece of shit," Mendicus was overheard as saying while angrily clicking the "Refresh" button on his web browser 14 times after pitcher Edwin Jackson loaded the bases with three straight walks. "Throw the ball over the goddamn plate. I need a win here, you idiot. I'm getting killed in wins."
For some players on Mendicus' team, the demand for instant results, the constant threats to be released or traded, and the nonstop verbal abuse is too much. Pitcher Jeremy Guthrie has been dropped and picked up by Mendicus seven times already this season, and he says he doesn't like playing under such volatile conditions.
"I wish he'd have a little faith in me," Guthrie said. "I don't like being picked up the night before my start and then simply dropped the next day. It wears on you as a player. And now I have to explain myself to my kids when they read in the papers that their daddy is a 'shit-for-brains asshole who can't even get five strikeouts when that's all we needed to win the category.'"
"I'm sorry, but when I have runners on first and third and one out, I'm going to go for the double play to get out of the inning, not the strikeout," Guthrie added. "Even though they don't give out 'points' for double plays."
Some players, however, praised Mendicus for his fiery attitude and desire to win, saying they prefer that to the kind of owners who treat their fantasy teams like nothing more than a fun distraction from their real jobs.
"It's good that he cares," said Beat With Uggla Stick catcher Jorge Posada. "Some owners, like Garrett Baldwin of the Smilin' Joe Randas, or Mike Broberg of Tiny Damon, they just sort of check in every once in a while to see how we're doing, but that's it. In fact, I've been on the Tiny Damon's bench since I went on the DL in April, and they don't even have anyone in the catcher slot. That's just shoddy ownership."
"But there's also a thing called caring too much," Posada added. "You can only be called a worthless shitbag after popping out so many times before it starts to sting. It's at the point where playing for Mendicus is almost as bad as playing for Hank Steinbrenner."