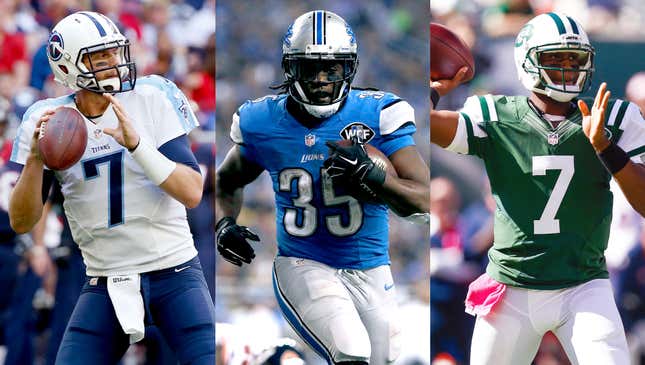 Onion Sports has expert analysis on which players to keep and which players to drop from your fantasy football starting lineup this week:
Start 'Em
Calvin Johnson (WR): Johnson has the ability to exploit Tampa Bay's vulnerability against wide receivers who are much bigger, faster, stronger, and more talented than them
Geno Smith (QB): A viable spot start in deeper 42- or 44-team leagues
Caleb Sturgis (K): Where to begin? The second-year University of Florida product showed that his solid rookie year was no fluke with a strong 15-point game to begin the year. After several single-digit efforts, the St. Augustine, FL native has really hit his stride, achieving double-digit fantasy points in four of the last six weeks. The confident, buoyant 25-year-old, who was the first placekicker selected in the 2013 NFL Draft, has missed just five field goals this year, with a season long of 51 yards. However, Sturgis has so many wonderful qualities that simply don't come through in his stats. Off the field, he is a kind, gentle, and generous person, always there to lend a hand when he sees someone in need. On it, he is a model professional who constantly pushes those around him to strive to be the best they can be, a characteristic he gained having been raised in a very sports-centric family. Sturgis' father, Smiley, was a strong tennis player in his youth, and now works as a pastor in St. Augustine. Meanwhile, Sturgis' older brother, Nathan, enjoyed a successful professional soccer career playing for a number of teams in the MLS. The Miami Dolphins are incredibly lucky to have Caleb in their starting lineup, and you will be too.
Edgelords Explain Why They Love Elon Musk
Sit 'Em
Joique Bell (RB): Finally a feature back, Bell becomes the latest in a long line of running backs to carry the load for Reggie Bush
Minnesota Vikings (D/ST): Could have trouble on third-and-longs figuring out whether Jets are planning to run the ball up the middle or run the ball outside
Zach Mettenberger (QB): Solid line protection should give him plenty of time to read the signs calling for him to be benched