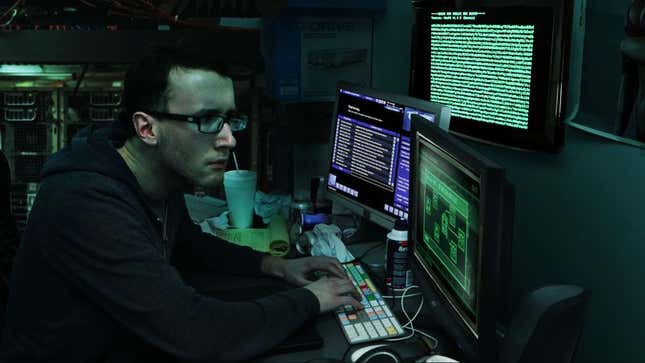 LOS ANGELES—After dashing off an indiscernible code on his laptop keyboard and sharply striking the enter key multiple times with his forefinger, a fast-talking, visibly tense computer hacker said that he just has to break through the encryption shield before he could upload the nano-virus, sources confirmed Tuesday.
CDC Issues Dire Warning That Nick Cannon Is Feeling Horny
The arrogant if socially awkward hacker, a 30-year-old software-programmer-turned-cyberpunk known only as "Cipher," reportedly told his buttoned-up yet eager employers who were hovering over him and watching his every move that breaking into the supercomputer's mainframe would be "child's play."
"The firewall's a bitch, but I should be able to get around it," Cipher said before swiftly wheeling his computer chair to an adjacent desk, clearing away the pile of empty pizza boxes and Maxim magazines and scanning the numbers and figures scrolling across two mounted flat-screen monitors. "Oh, what have we here? Looks like they updated their security system. Impressive. But not impressive enough."
"And…I'm in," he added as the words "ACCESS GRANTED" appeared on his laptop screen. "School's in session, bitches."
The efficiently executed hacking reportedly began at approximately 6:45 p.m. when Cipher, wearing a tight-fitting black hooded sweatshirt, skintight jeans, and black Converse with no laces, inserted a flash drive into his laptop's USB port and said "Let the games begin" as an upload bar materialized on the screen.
Sources confirmed that over the next few minutes, Cipher industriously navigated between multiple computer monitors displaying 3D-rendered images, criminal profiles, warehouse floor plans, and HTML code before brusquely swinging his chair around.
"Don't touch that!" he reportedly snapped at a client walking past a cluttered table of disassembled technological equipment, which he quickly scooped up in his arms and moved across the room. "This is expensive stuff, okay? Try to do me a favor and not break anything."
"Amateurs," he added under his breath.
When the upload bar reached a completion level of 68 percent, sources confirmed the screen froze and flashed a red message reading "TRANSMISSION ERROR," causing a female client to ask a slyly grinning Cipher, "Is something wrong?"
"They're smarter than I thought," Cipher reportedly said while sliding a ballpoint pen between his teeth, brushing aside a wisp of hair from his face, and muttering, "I wonder if I can just bypass the SRM altogether." "You think you're a clever boy, don't you? Well, let's see how clever you really are."
Reports indicate that after taking a swig from one of the six already opened Red Bulls on his desk, the visibly invigorated hacker quickly entered a series of memorized commands into the computer.
Following a tense moment in which the screen appeared to be frozen and Cipher's clients nervously glanced at each other, the error message disappeared from the screen and the bar resumed uploading, prompting a triumphant and relieved Cipher to bang his desk, slide back from his table on his four-wheeled desk chair, and yell, "Boom."
"Looks like someone forgot to input a certain attack signature file into a certain dynamic-link library. Such a pity," Cipher said before explaining how he managed to determine the source of the error and improvise a solution, provoking his employers to respond, "In English, please." "Am I moving too fast for you? You moneymen are all the same."
After deactivating the encryption shield and gaining access to the remote server, sources confirmed that Cipher declared, "Now for the fun part," and turned up the volume on a nearby stereo. As a heavy metal song blared from the speakers, the hacker reportedly leaned back in his seat, placed his hands behind his head, and waited for the nano-virus to transfer to the computer.
"Come on, come to Papa," said a visibly pleased Cipher as the "Percentage of Virus Uploaded" bar went from 90 to 95, hovered at 99 percent for an uncomfortably long second, and then flipped to 100. "It's a thing of beauty, my friends. Now, where's my fucking money?"
At press time, sources confirmed this is why Cipher is the best in the business.