WICHITA, KS—Local pharmacist Ed Raschi, 52, admitted Monday that he is occasionally bitter that his son Brandon has everything he never had growing up.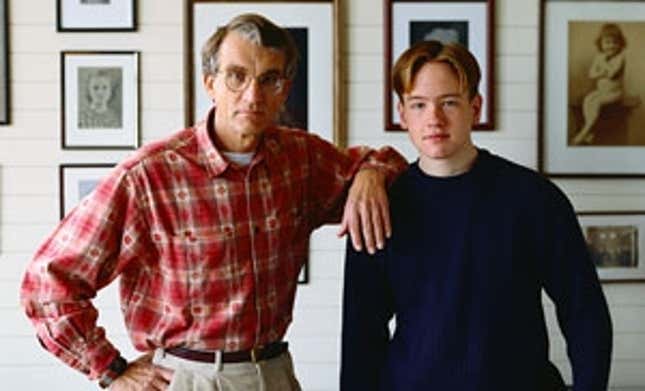 This Week's Most Viral News: September 22, 2023
Despite taking pride in the fact that he has been able to provide a better life for his 17-year-old son, Raschi said he sometimes catches himself feeling jealousy and resentment.
"Sometimes, I'll hear Brandon taking a shower, and I'll think, 'Hope you appreciate that shower,'" Raschi said. "I usually feel guilty after I think things like that, because a father's supposed to want only the best for his kids. But deep down inside, part of me resents the fact that when I was his age, I had to go down to the YMCA to shower because my father was too drunk too fix anything."
Continued Raschi: "When I see those fancy soaps Brandon uses, it makes me think of the caustic industrial soap they had at the Y. He really doesn't know what it's like to go without certain things or use industrial lye soap on your private parts."
To escape economically depressed Mayetta, KS, in 1971, Raschi enlisted in the Army—a path he more often than not hopes Brandon, 17, will be able to avoid.
"Brandon is very fortunate; he gets to go to college next year," Raschi said. "He'll be able to just go to college and dink around for a while, sow some wild oats and 'find himself.' I never got to do that. Instead, I spent 10 months waist deep in rice paddies, waiting for the Viet Cong to strike at any second. After seeing the horrors I saw in 'Nam, you don't waste your time when you get back. But, thank God, Brandon doesn't have to look at life that way. Must be nice."
Raschi is alternately happy and resentful that his son won't face the difficult life lessons he did at an early age.
"I'm glad Brandon has had a better go of it than me," Raschi said. "He's never known what it's like to work three jobs while putting yourself through school. As a father, it makes me feel good to know he'll never have to unload boxes at a cannery in the morning, scrub toilets in the university buildings all afternoon, then drive a cab until sun-up with only a scratchy AM radio for company. Then again, that really stinks that I had to do it but he doesn't."
Brandon has also not had to learn the value of a dollar.
"Brandon is a great kid, and he gets good grades, but when I see him fritter away his allowance on Big Macs and rap CDs, I get a little upset," Raschi said. "When I was his age, every dollar I earned went toward food for my brothers and sisters, or paying the electric bill. I didn't get to spend it on a Game Cube. I mean, those games look pretty fun, but damn if I ever get to play them."
Though Raschi's envy doesn't make him love his son any less, he does wish that he had had the sort of nurturing, comfortable upbringing Brandon enjoys.
"Both my parents were emotionally distant and had violent tempers," Raschi said. "Brandon, on the other hand, has warm, loving parents who look out for him. He should be thankful every day that he has a devoted mother and father. The lucky bastard."